12:39 minutes are too short a time to live anyone's life. But, director-writer Kathryn L Scurry manages to bring to screen the life of a woman and her choices. Choices that she has been confronted with, decisions that she had been coerced into taking and how in the web of life, all remain interwoven and interconnected beyond ordinary understanding…
Katherine Grams plays June, an expectant mother, happily married to Barry (Jarrod Foster). Their fairytale life is punctuated with Barry's undying love for his wife who despite familial objection stood firm to marry him. A baby shower that's organized for the expectant mother becomes the setting stage for the ultimate turn of events. Foster and Grams try hard to be honest with their characters, but their chemistry leaves room to desire. For a couple who has been through the fire, they ought to have had a more nuanced, deep bond between them, which doesn't translate onto screen, unfortunately.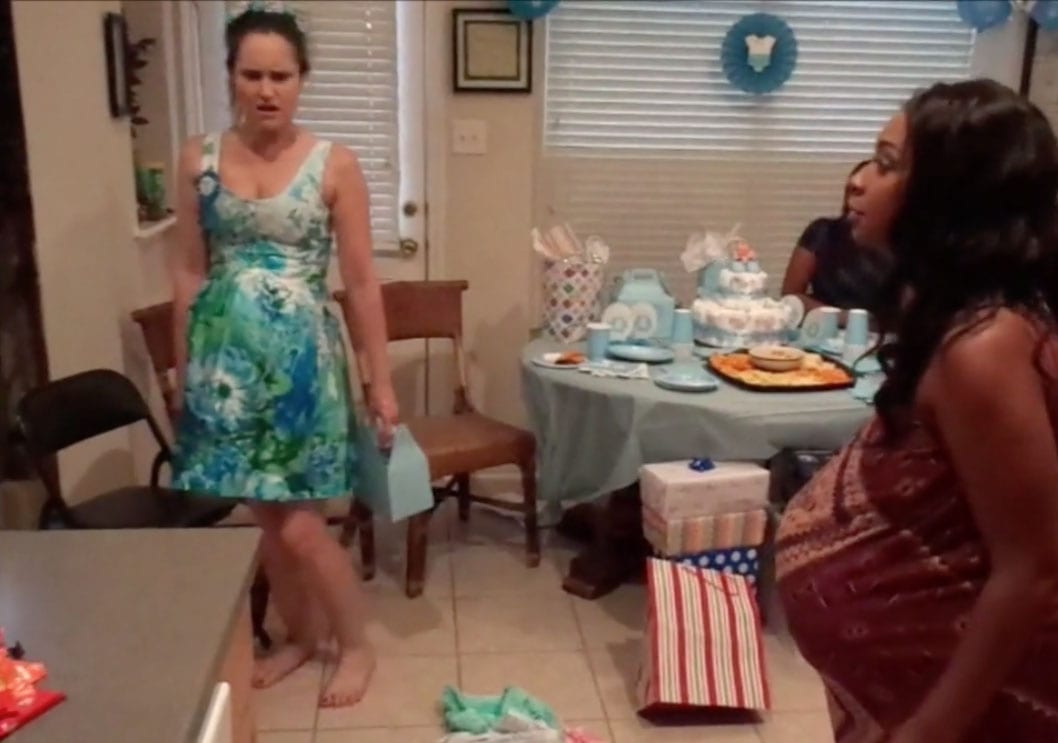 Without giving away spoilers, when the doorbell brings home an uninvited guest (Angelica played by Fallon Lawrence Bulli) to the baby shower, June's world collapses. The film thereafter narrates her ordeal, but without being the victim one might expect her to be, June trudges along a path of resolution, fortitude and strength. Scurry's writing is impressive, with relatable, authentic dialogues, but the direction of the film feels amateurish. For a concept as deep and detailed as this one, it demanded more finesse.
The cinematography and editing are good, sporadically. In an attempt to highlight certain moments in June's life, it flips between hurried shots and slow motions which do break the monotony of the film, but again, demands expert hands. Where 'June's Baby Shower' does well is in the screenplay. The writing is impactful and the story is compelling. Instead of the usual character arch often times seen onscreen, 'June's Baby Shower' offers a unique, even inspiring narrative that is both original and dramatic. Where the film could have improved would have been in the overall aesthetics and finesse in the execution of the scenes.
'June's Baby Shower' Is The Portrait Of A Woman & Her Choices …
Direction

Cinematography

Screenplay

Editing

Music