Instagram is about to hit 1 billion monthly active users soon. According to the last set of data released by Instagram on November 2017, it had more than 600 million monthly users and was growing rapidly. Instagram Film Marketing is not taken seriously by most of the filmmakers. When I talk to filmmakers most of them ignore Instagram from there marketing plans. Everyone has there own reasons, will talk about those later. If you are reading this you are already doing marketing on Instagram or want to try Instagram for your film marketing.
Last week it was a tough week for Instagram's parent company Facebook with all the personal data leak issue. But this didn't stop Instagram from launching an amazing feature which we all have been asking for years. They introduced hashtag and profile links in the bio. Instagram isn't the first one to introduce this. Twitter had this feature for a long time.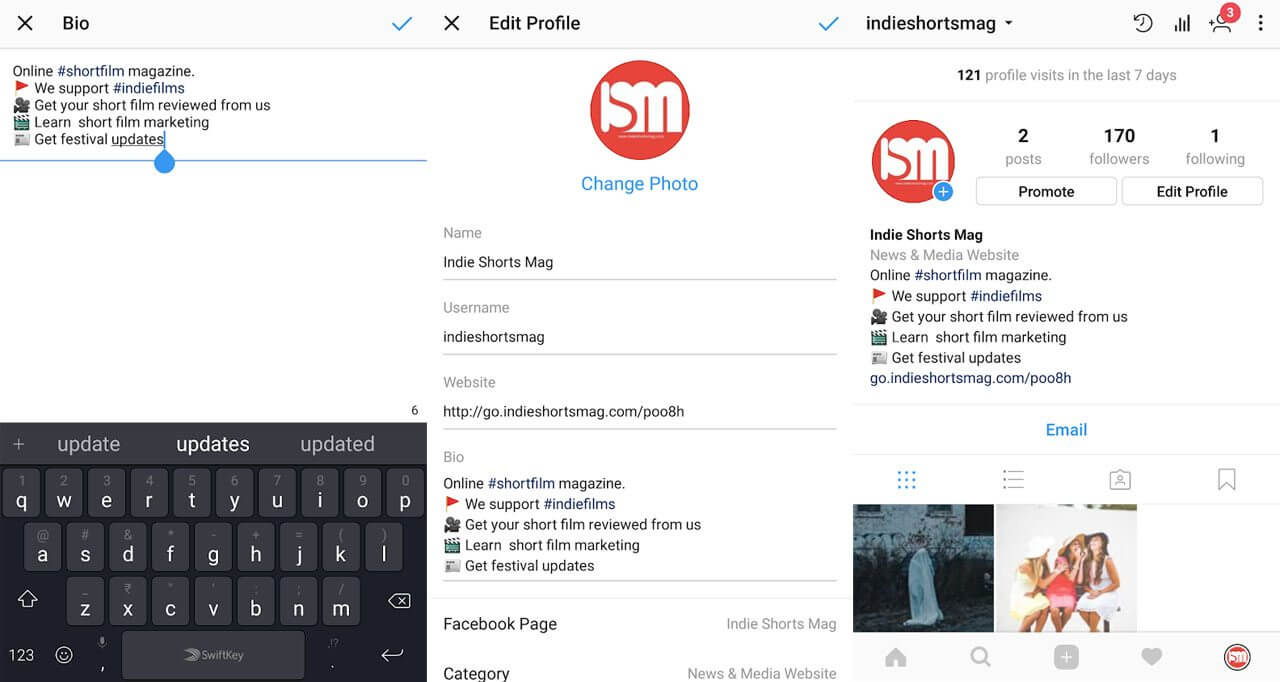 If you are not familiar with how this works, this is how it works. When you include # or @ in your bio, they become live links that lead to a hashtag page or another profile. To add a hashtag or profile link in your bio, tap on edit profile and go to the bio section. When you type # or @, you will see a list of recommended hashtags and accounts in the typeahead. Once you select the hashtags and accounts you want, they will automatically be linked in your bio. Don't worry, someone won't just randomly use your brand or film under their profile, this is where Instagram does it better than Twitter. When someone mention's your profile in their bio, you will receive a notification and can choose to remove the link to your profile. Your profile will remain in their bio but without a link.
So, how can a short film use this? Let's begin with the crew. If you have a separate handle for your indie film, you can start by linking the film in your bio. Saying, "Currently working on: @filmnam", "Best Cinematography for @filmname", etc… Use a text which creates curiosity or which is attention-grabbing. If you do this right, people who visit your profile will click on the profile link to check out your film. Talk to your crew, educate them on this and they would be happy to help you with this.
Now let's talk about hashtags in the bio. Till now hashtags were a great way of discovering content and also finding a new audience for your content. I am not sure how hashtag discovery works on profiles. I tested it out and when you click on a hashtag from the bio, you are taken to the hashtag page which lists all the top and recent content. No profiles were listed there. I guess soon we will see, top profiles or something similar to how Twitter does it. In Last year, Instagram introduced the ability to follow hashtags, so when you click on a bio hashtag, you are taken to a page where you can follow that hashtag.  If you have a unique hashtag you could use this feature and gain more audience.
Go try the new feature out and let me know how it helped you and your indie film. This is a new feature and I am still testing it out. Once I have more solid tactics to share I will write about it. Check out our social media pages for more updates. Here is the link to our Facebook, Twitter & Instagram pages.
Direction

Cinematography

Screenplay

Editing

Music