'The Silent Child' has just won the 90th Academy Awards in the Live Action Short film category. Directed by Chris Overton the film explores the relationship between a social worker and her pupil. Issues around deafness, special needs and a reluctance to acknowledge society's pressing needs are addressed in the film. As the team rightfully celebrates its success, Indie Shorts Mag has managed to bring on board Amir Konjani, the film's famed composer to talk about his musical quirks, his journey with 'The Silent Child' and his future projects.
Excerpts from the interview…
How did 'The Silent Child' come to you? Were you actively looking to compose for a short film?
I am often asked to compose music for different ventures and I have to make sure I choose the right project for me. Saying 'no' to the projects you don't like can shape your future. The Silent Child was one of the projects that came my way. I love movies and other mediums such as contemporary dance and performance art which allow us to express our humanity. My motive is to be a voice, to make a difference and to help to build a better world for everyone.
As you might know I was not able to attend the OSCAR ceremony because of Donald Trump's travel ban on six countries. I applied for the visa and went to the American Embassy for an interview. Sadly I saw that my fellow countrymen and women had to queue and were spoken to very disrespectfully. The embassy staff treated me with respect which I appreciated but I had the same passport as my people and felt deeply sorry that this kindness had not been extended to them.
Amir Konjani, Music Composer of Oscar-winning film @SilentChildFilm was not able to attend the OSCAR ceremony because of Donald Trump's travel ban on six countries. @ASADRGHIK
Click To Tweet
After the interview, I received an email from Washington which asked for details about my family and close friends, all my social media usernames and all the details of my trips in the last fifteen years. Although I got my US visa I decided not to continue with my journey for the sake of my people. I've been asked not to give any interviews in English to the English media before the OSCAR Ceremony. So you are the first that I inform it!
Earlier you spoke about your 'shadowing idea', which you experimented with in 'The Silent Child'. Could elaborate on that for our readers?
This technique is part of my research at CalArts and the Royal Northern College of Music in Manchester. (The RNCM is the UK's leading music college for research and the faculty, specifically, Barbara Kelly and Adam Gorb, were very supportive of my idea practically.) The Shadowing idea was inspired by one of Alexander Calder's installations. My technique uses a single performance act to create two or more different – but related – sounds, separated by timbre and time. For example, for a cello solo part recording in The Silent Child I have established a performing/mobile installation as a preparation for the cello. The cello strings are attached to springs and large plastic tubes which result in the former generating one group of sounds and the latter re-projecting them. These sounds then create air-like 'shadow' sounds, which are slightly delayed and distorted acoustically.
Another Shadowing technique involved superimposing the sound effects and the music tracks I had used. This technique brings out the effects and noises of the whole movie and interestingly there is no clash between the effects and the music tracks.  The technique allows us to change the audience's perspective of what they see and hear, second by second. The distance of the sound production sources gradually change with the layering of many tracks. This changeability brings the audience forward in time.  
It took hours of work to superimpose all the music tracks and sound effects for the twenty-minute movie. After this, we worked for an additional sixty hours in the studio and mixing room just to activate the Shadowing technique.
How important is it for you to be involved in the process of the storytelling? As in, how significant is it to your composition to be aware of the narrative, the storyline…?
Have you ever tried watching a film with muted sound? In the Silent Child, the texts and action convey what the characters are thinking or doing, but the music can tell us what they are or who they are. Music, therefore is a 'performative' element in storytelling. For instance, we have 'performatives' such as 'I promise you', these sets of words are not simply about language but about actions that can be directly accomplished and activate a meaning and its 'transition of meaning'. This film score does exactly the same and it tries to portray "performativity" of the characters and helps to convey the intended emotions and to add momentum to the story.
Did you find the process more challenging than conducting an orchestra? Understandably, the process for both would be different. But, in what ways did you find them interesting or challenging?
I always send sketches to directors to identify what they want. Most directors know very little about the language of music so we need to create terms to enable us to understand each other. I knew that our mantra will be "our disability is diversity" so I started to use my Braille idea. As can be seen from Figure 1 below, four tubes project shadows in four different directions. Each line represents one spring, which is connected to the cello string. During the composition process, I made dots on the tube lines (springs) to navigate the sound direction through the tubes. This way of navigating the sound to project (spatialization), was important in helping me to develop the themes in the Silent child movie in the cello part. During my experimental dotting approach, I discovered that I could use the dots as music Braille codes, which could be used when harmonizing some parts. Lastly, I tried to assign the name of the characters and lines in the script to the Braille code and transferred the dots to sounds. But to be honest, I didn't mention it to our director. Usually, directors approve the outcome when we superimpose the music onto the film footage. The process is not their priority.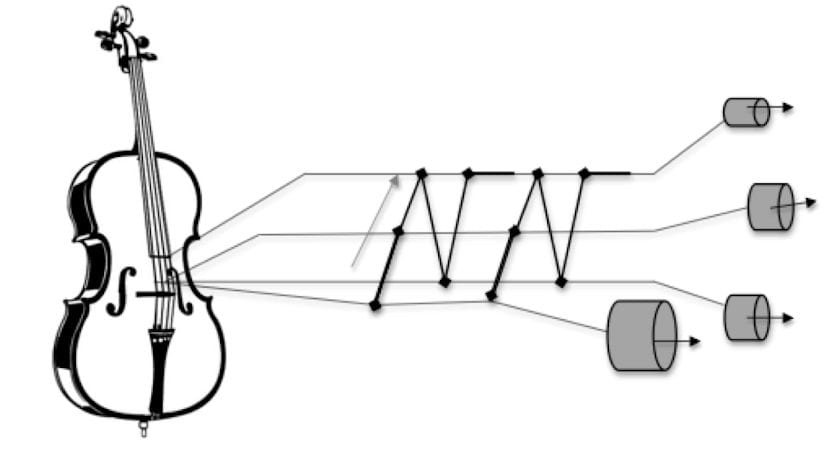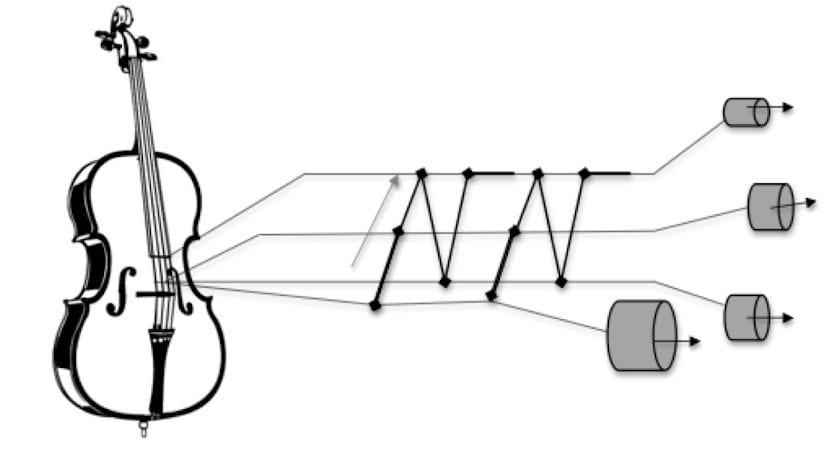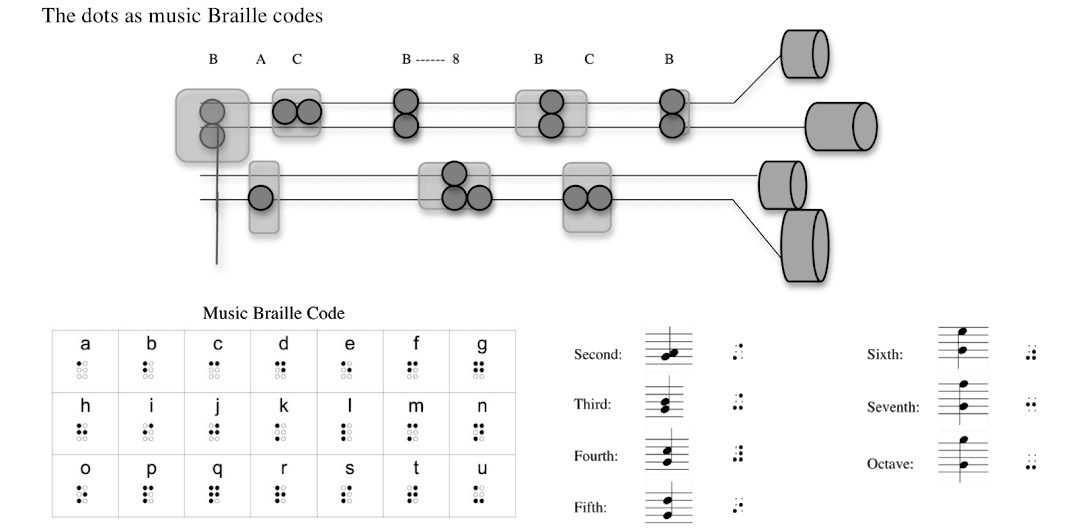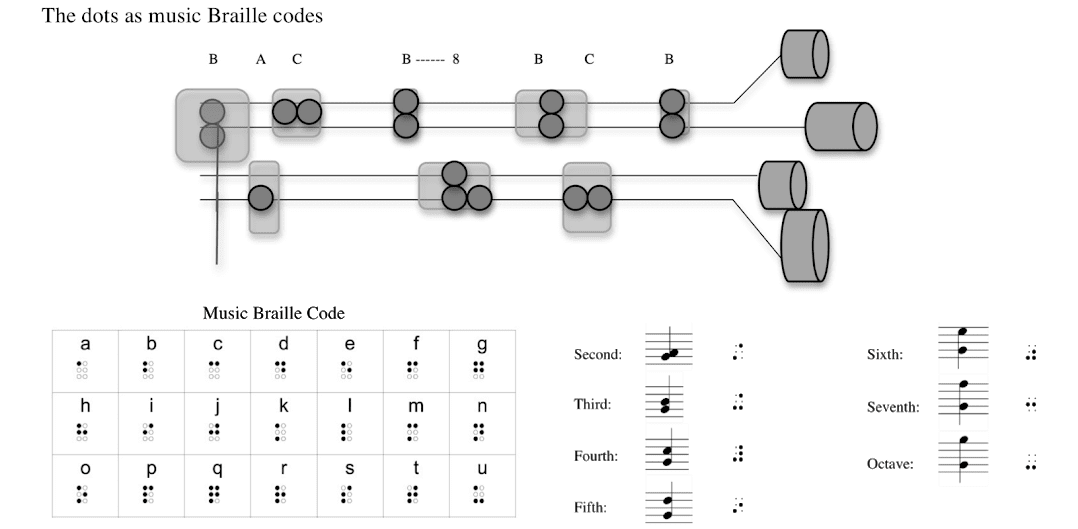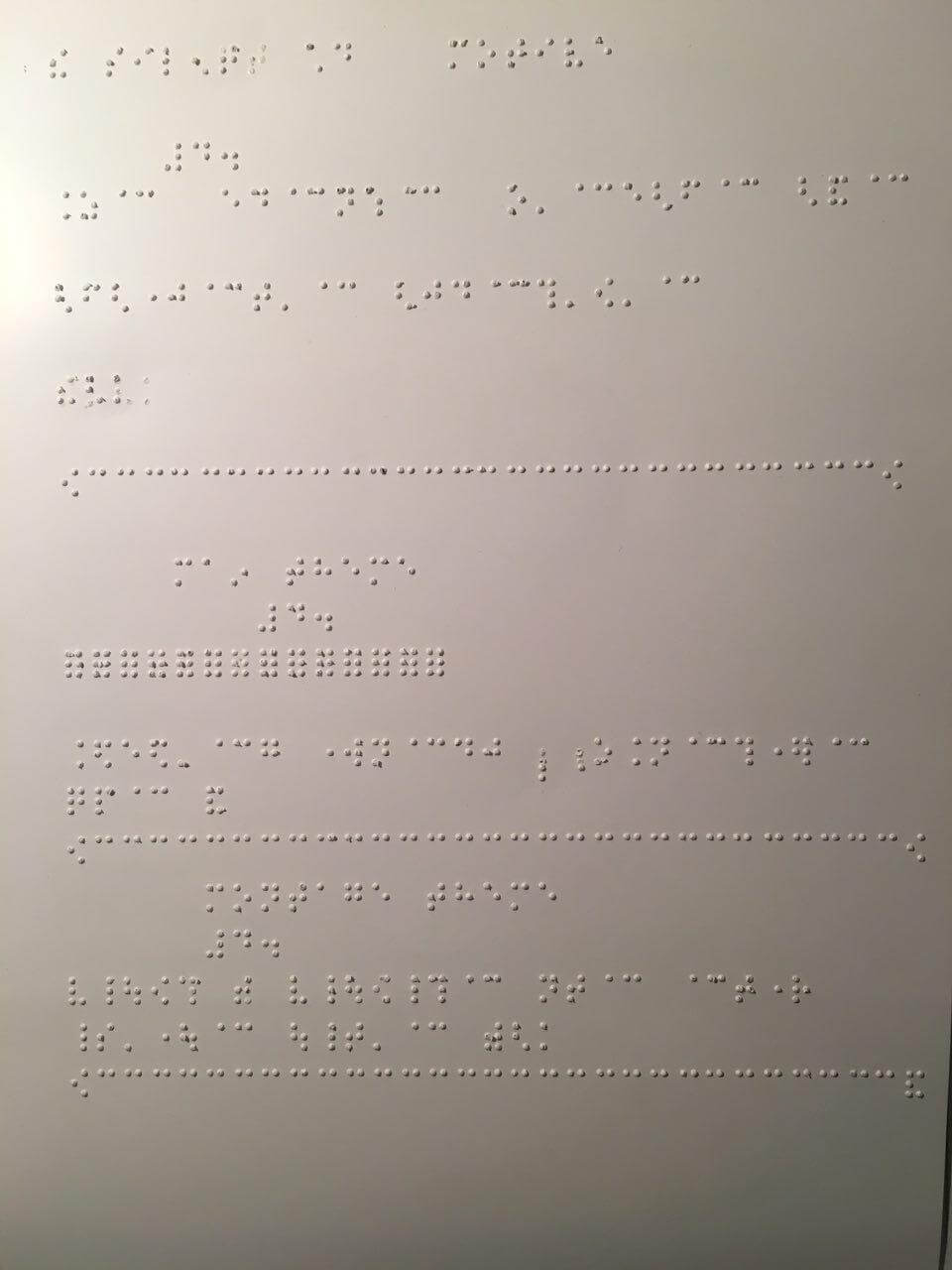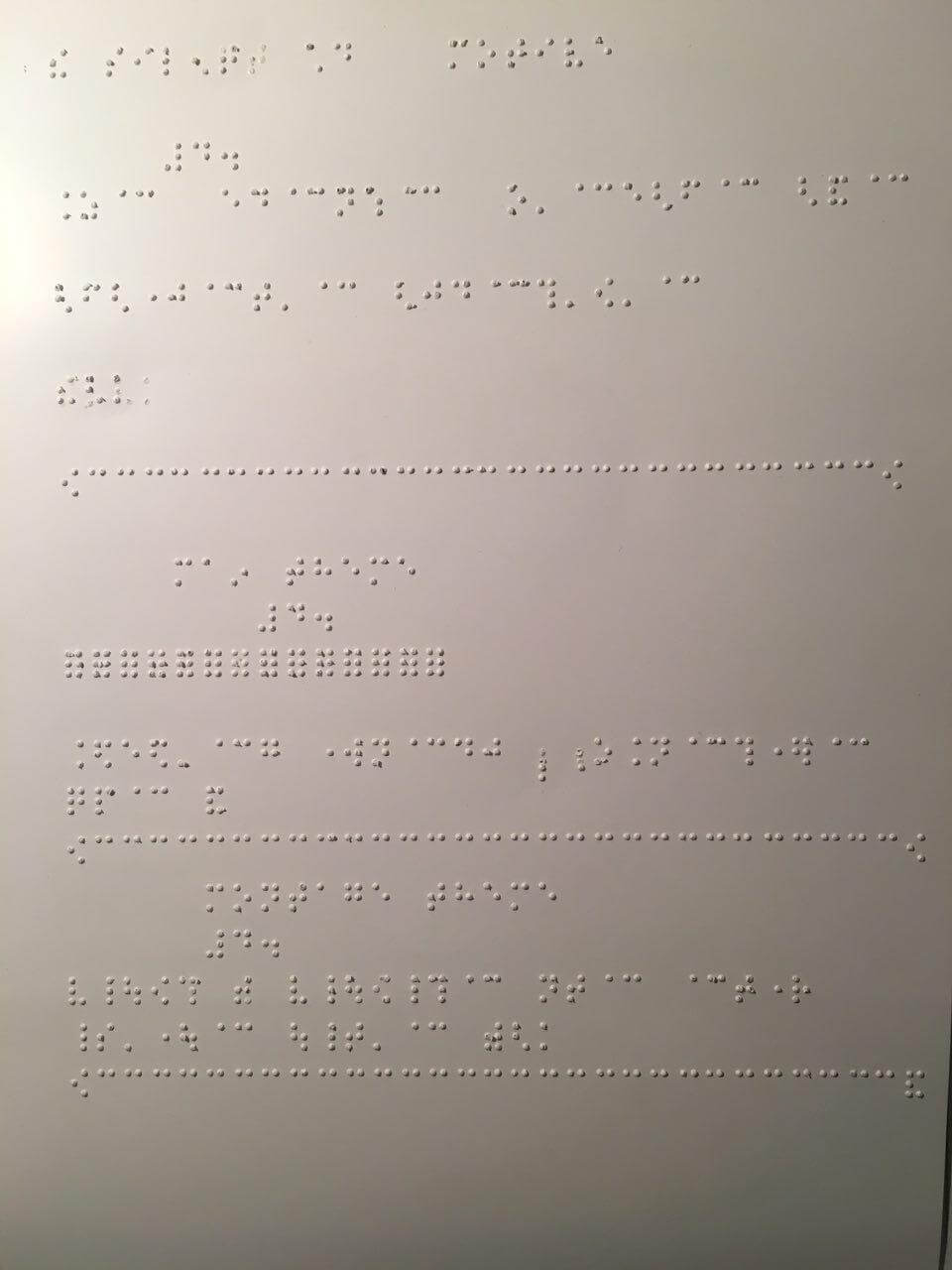 Your tryst with music began at the age of seven. That's remarkably young to venture into any field! Today, how do you reflect back at all those years of music learning and composing? Would you have done anything differently?
Interestingly, when I work or experiment with an orchestra today, still I have the same feeling as when I was a child. At the age of ten, I was too shy to say that I was able to compose music. Perhaps if I had had the opportunity to explore my compositions, I would have developed my skills earlier. However, I was eager to learn more about music and I know I still have lots to learn. In addition to composing music, I directed theatre at school. I really enjoyed being on stage and extending my dramatic and acting experience. When I was at CalArts I attended Travis Preston's theatre/performance directing classes.
Composer, conductor and a conceptual artist. That's many hats for anyone to don. How do you strike the balance? Which one of these do you enjoy the most?
We should add Performance Art Maker or Situation Maker as well! This is my dilemma and I occasionally experience inner clashes. I do work very hard and I try to plan my one-year projects well in advance. For example, two years ago I was involved in a performance project called "Tingling." It had sixty performances and my role was performance designer, director-writer, composer and conductor. The project took one year to plan and bring into being, after which the Edinburgh Fringe invited us to perform at their festival. The idea was to trick the audience's perception into creating a new surreal sonic reality. The audience was asked to use stethoscopes (as an optional choice of collaboration) to auscultate boxes containing restrained performers. The audience connected their stethoscopes to the tubes installed around the boxes. The seven Perspex boxes indicated the position of a performative event of a single performer.
Who has been your inspiration; both, inside and outside the music industry?
John Cage has been a major inspiration as well as artists such as Abbas Kiarostami, Conlon Nancarow, Lars von Trier, Woody Allen, Krzysztof Kieslowski, Asghar Farhadi, Robert Wilson, Jean-Luc Godard, Luis Bunuel, Chris Burden and Marina Abramović.
Do you have any process or ritual that you opt for or like to perform before you embark upon any performance or project?
In one word, isolation. In my opinion, solitude helps us to achieve greater self-understanding. This in turn helps us to recognize that relationships with others help us to fulfill our sense of being.
Is there any particular musical instrument that fascinates you? Either to learn or use in any of your compositions?
Yes, the Harp, Cello and Piano are my favourite instruments. I am designing a new harp; called Soveyda. It is based on my shadowing technique (juxtaposing ancient Persian harp with the tubes and springs).
Recently I am working and negotiating with the ROLI Company (on some adventurous projects) and I might use their product (Seaboard GRAND) for some new film scores.
Music has a language of its own. Has there ever been an instance where you found it difficult to break the code? (As in, just like writers suffer from writer's block; do composers too reach a point of exhaustion or lack of inspiration?) If so, how did you deal with it?
YES, Most of the time is difficult to break the code! The first step, is overcoming the 'blank page syndrome' when starting to compose a new piece. When I was working at Calarts we invited Thomas Newman to talk with my students about this problem. He said that this happens to most composers; we need to find our own solutions to the conundrum. As Sir Maxwell Davies mentioned to me in a composition class at Royal Academy of Music; finding composition material which has the potential for development is one the most difficult stages of the composition process. I usually make a number of exploratory sketches which I can either develop or discard. Psychologically, repeating our past "optimized experience" is very difficult for artists and causes anxiety or even depression when they start a new project.
When do we get to hear another Amir Konjani composition?
I am currently involved in four projects. I have been nominated for the second time for a Gold medal in composition and my work will be performed in June. I have also been asked to compose for a string quartet and two film scores commissioned by BBC News and a British company. Lastly, the BBC World Service is producing a documentary about my shadowing techniques and my Gold medal piece, which hopefully will be aired in the autumn.
Indie Shorts Mag wishes you all the luck for your future ventures and hopes you regale the world with many more of your compositions.