A three episode limited series, Kyle Coffman's Guys Like You explores its protagonist through the encounters he has with three men who come into his life. Written by its lead actor, Trystan Colburn the story is a layered take on coming of age, questioning its very possibility where self-worth is missing.
Episode 1, Zander, witnesses a crucial turning point in the protagonist, Derek's life: a final breakup with his ex, the titular Zander (Markus Jorgensen). Exes before the two were roommates at college, the episode provides details of their relationship as the drama builds and worsens between them.
It opens on a domestic sight. The two on the floor of their dorm room, listening to music, talking about hypothetical scenarios. It is a typical dorm room; adorned with posters and lights, a space too small to move in after the beds have been installed. Questions of a future and the past are abandoned at Zander's behest in favour of homework due the next day. They are in their freshman year of college.
That there is more between them than merely sharing space is obvious from their comfort and familiarity around each other. A play fight only confirms this. What is unexpected is their history. After the fight escalates into intimacy—which Derek initiates—things quickly devolve into a heated argument, providing details of their shared history which extends in the past well before college. Derek's flaws are laid out, both by Zander and Derek's actions.
The editing is crucial to their chemistry, creating an absorbing, natural rhythm to the conflict. The tension steadily rises. With the conflict, the narrative efficiently establishes the characters. Indeed, the aim of this first episode is largely to establish Derek's character, and due to Colburn's performance and the writing, the episode gives the viewer a rich groundwork of who Derek is and what his motivations are.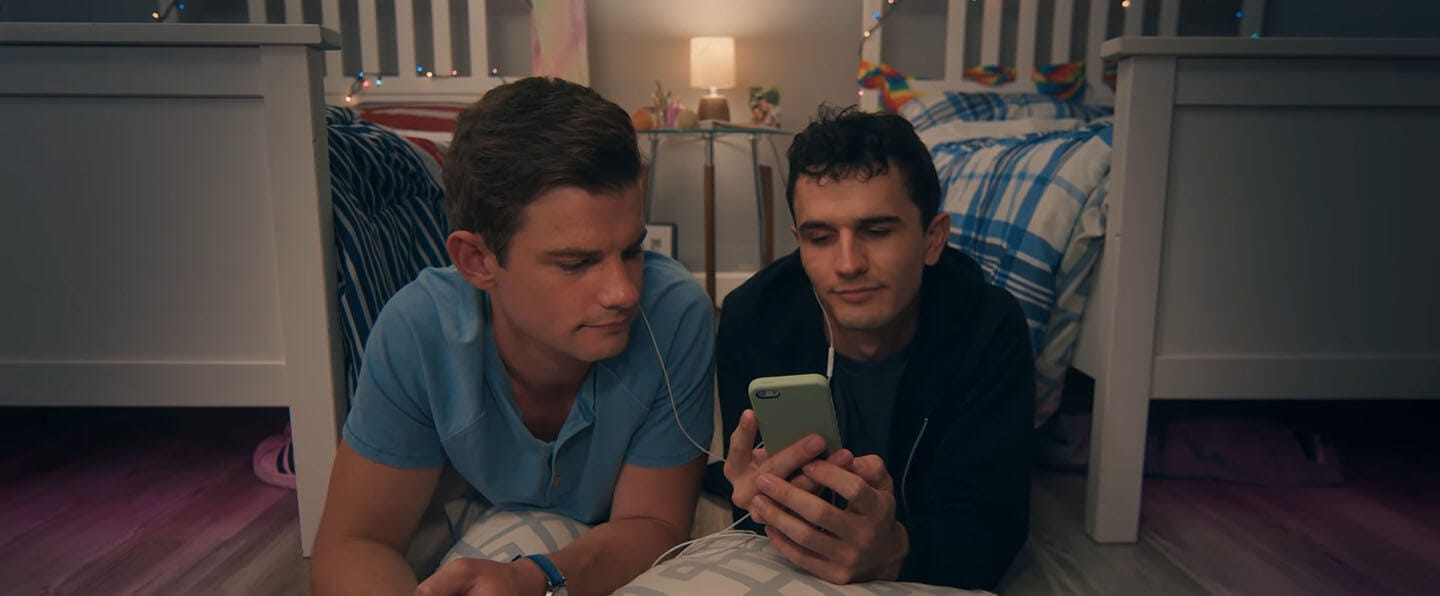 Episode 2, Benji, finds Derek carrying forward the scars of the disastrous fight. To a new potential relationship on the horizon, he reacts with only hesitation and reluctance. Just turned 21, Derek spends his birthday night alone with homework and a dating app. Until the subject of the episode, Benji (Connor McRaith) arrives. A fellow student at university, Benji is British and also meant to return home in a month's time. Charming and clearly nursing a crush on Derek, he unknowingly halts Derek's hookup plans, and induces him to actually celebrate his birthday and get drunk.
Set to a pop soundtrack like Zander, Benji too explores only a moment in time. Yet, this episode feels more transient in nature than the previous. In an in-between time, deliberating an in-between relationship, Derek is characterised with an in-between, shaky sense of self. There is less assurance in him this time about himself and about the world, even as he emphatically states that he is "f**ed up".
This comes in response to Benji's desire and attempt to get involved with him. The past rears its head explicitly here. Where Derek had so far been noticeably subdued in this episode than before, he now openly shows his wounds to the viewer. Pleas to stay have been replaced by questions about leaving. Although this evinces evolution and development as a character, his actions are endearingly young.
Coming to Benji himself, the character is kept ambiguous. Which suits the story well; this is not a tale of a love that lasts forever. Derek and Benji come together in a mix of sweetness and heady romance, aided by alcohol and biscuits. The future is a question for later. The essence of the episode, as of the whole series, is to paint the specific ephemerality of youth, where neither personality nor events are set in stone. Of course, this dual flow of change is at the very core of what makes stories about adolescence, young adulthood, and coming of age so enchanting.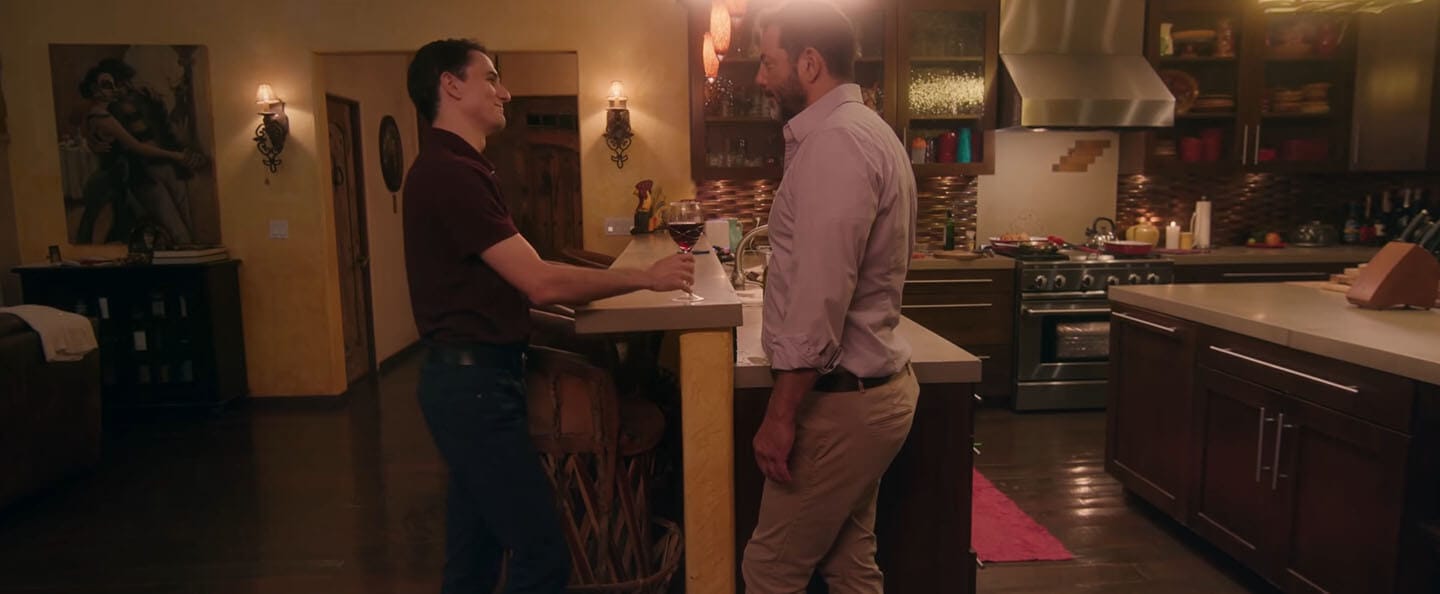 Episode 3, William, is set during Derek's senior year. On a date with a much older man, this is Derek at his most flirtatious, seductive, and to quote William (Chuck Saculla), cheeky. Sitting at William's kitchen table, Derek talks while William cooks, a pleasurable evening ahead. Until Derek's behavioural issues from the first episode resurface, but this time with a moving vulnerability and more context.
In stark contrast to Zander and Benji, who were Derek's friends, William is a match from the dating app that he has often been shown using. Consequently, William also does not come with the romantic possibilities as the other two. Oddly, it is William whose character is given considerably more detail and texture. The episode is meant to be a direct comparison of episode one and it shows in the setting itself. While the dorm room's crampedness was emphasized, here it is the sheer size of the house. The camera takes its time exploring the living room. The wooden door is heavy and big enough to not be fully framed in the shot. The borders of Derek's life have expanded. The wounds he has carried have expanded in tandem.
The light banter and flirtation between the two take an abrupt turn when Derek oversteps his boundaries, forcing himself on William despite repeated rebuffs. Once again, the mood has escalated to one of heavy tension. The expectations that the viewer and Derek have of William (as a much older man who habitually sleeps with young men of his son's age) are brought to the fore.
Derek breaks down in William's presence, and the viewer sees his component elements. Lonely, vulnerable and fully believing in his lack of worth, he has accepted the repeated violation of his own boundaries by others. His behaviour is now understood as the echo that it is.
Over three episodes, Guys Like You sees Derek's evolution. It cannot truly be called growth until the last minutes, where he finally pauses to reflect and (through William) has the necessary guidance to begin moving away from guilt and shame.
Derek is not made either uniformly likeable or unlikeable. The nuanced greyness does wonders to create a compelling character, one who is not only a developing young adult but also gay. Though it is not explicitly spelled out, as viewers we know the impact that the latter has had on him in a society where it is yet to be entirely normalised and accepted. With William he finds support, comfort, and crucially, respect. Derek is allowed to come of age.
Watch Guys Like You Web Series
Guys Like You: The Role Of Support In Coming Of Age
Direction

Cinematography

Screenplay

Editing

Music