Here is a film about the film industry that is so unexpectedly intense and on the point, it can take your breath away. Written and edited by Jacob Seelochan, who also stars as the protagonist and delivers a searing performance, Tomas Howells' A Casting Room goes headlong at casting practices and racial questions with an approach that is both substantive and visceral.
It begins with a last minute change of role when Harris (played by Seelochan) comes in to audition for a mixed race part. Instead, the casting director (Vanessa, played by Helen Belbin) insists he try for the Indian part. Nonplussed, he goes ahead with it. But, and this becomes a recurring motif throughout the film, Harris stops and states that it makes him uncomfortable, especially when having to do an accent that he was not prepared for. Vanessa is the amalgamation of industry professionals, characterised by the same easy-breezy attitude under which lies an easy to invoke resentment, as well as general indifference and impatience. The two go up against each other in a spectacular row of conflicts. Though it appears to be entirely one-sided, Vanessa is very much a participant, if nothing else then by her continued and determined effort to appear nice and not engage Harris' genuine concerns.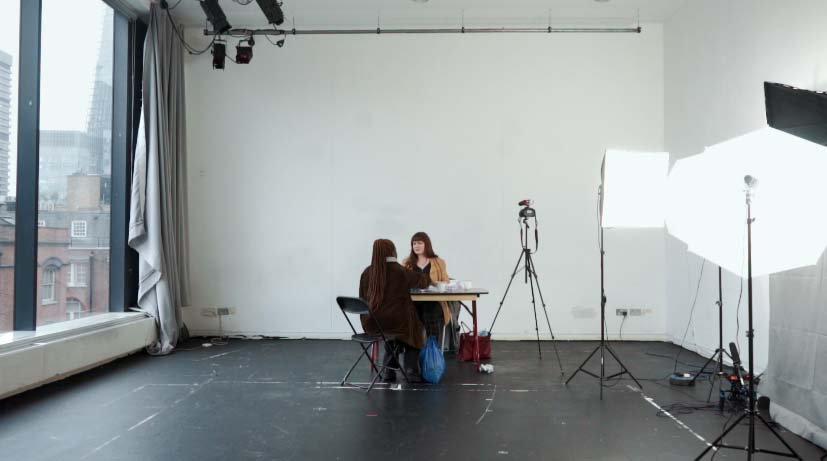 Yet the film must be given credit for remembering that this is not a story of a righteous everyman going up against a specific evil villain. Instead, it frames the story for what it is, and Vanessa for what she is: merely symptomatic of a larger, systemic problem. She is a pawn, mandated to do her job without attempting independence. So she does what she must with what she has.
The writing would almost be funny if it were not so tense for every time that Harris feels he has overstepped his boundaries and makes to leave, only to turn right back and demand answers. The answers that Vanessa provides only serves to further demonstrate the depth of the wrongs that the industry callously has created and perpetuates.
For a film so bare—two main cast, one location, minimal production design—A Casting Room is unquestionably brilliant, with powerful writing and performances. The score must be especially lauded for its unusual sound, as well as the uncanny precision with which it is in tune with the rising and falling narrative tension. The 13 minutes are well worth it.
Watch A Casting Room Short Film
A Casting Room: Diversity, But On Their Terms
Direction

Cinematography

Screenplay

Editing

Music