Eric Pace delves into the age-old fantasy of how we would deal with the confirmation of the existence of aliens through his 14-minute short, Classified. Not very well, as most films of this sub-genre usually predict. The American government has come face to face with an alien, and in reaction, has kept it in captivity, with no progress as far as any communication is concerned. 
Thus enters our protagonist, Will Gibbons (Garrett Barnes), a timid looking man, selected by the authorities with the hope that he will succeed where experts have failed, specifically because he is seen as a jack of all trades but master of none. On his very first try, he manages to have the alien react to him, which is a step up from the complete unresponsiveness of which the alien—played by Jaron Farassat, and depicted as a green-bodied, insect-eyed creature—has deemed the people in charge to be worthy.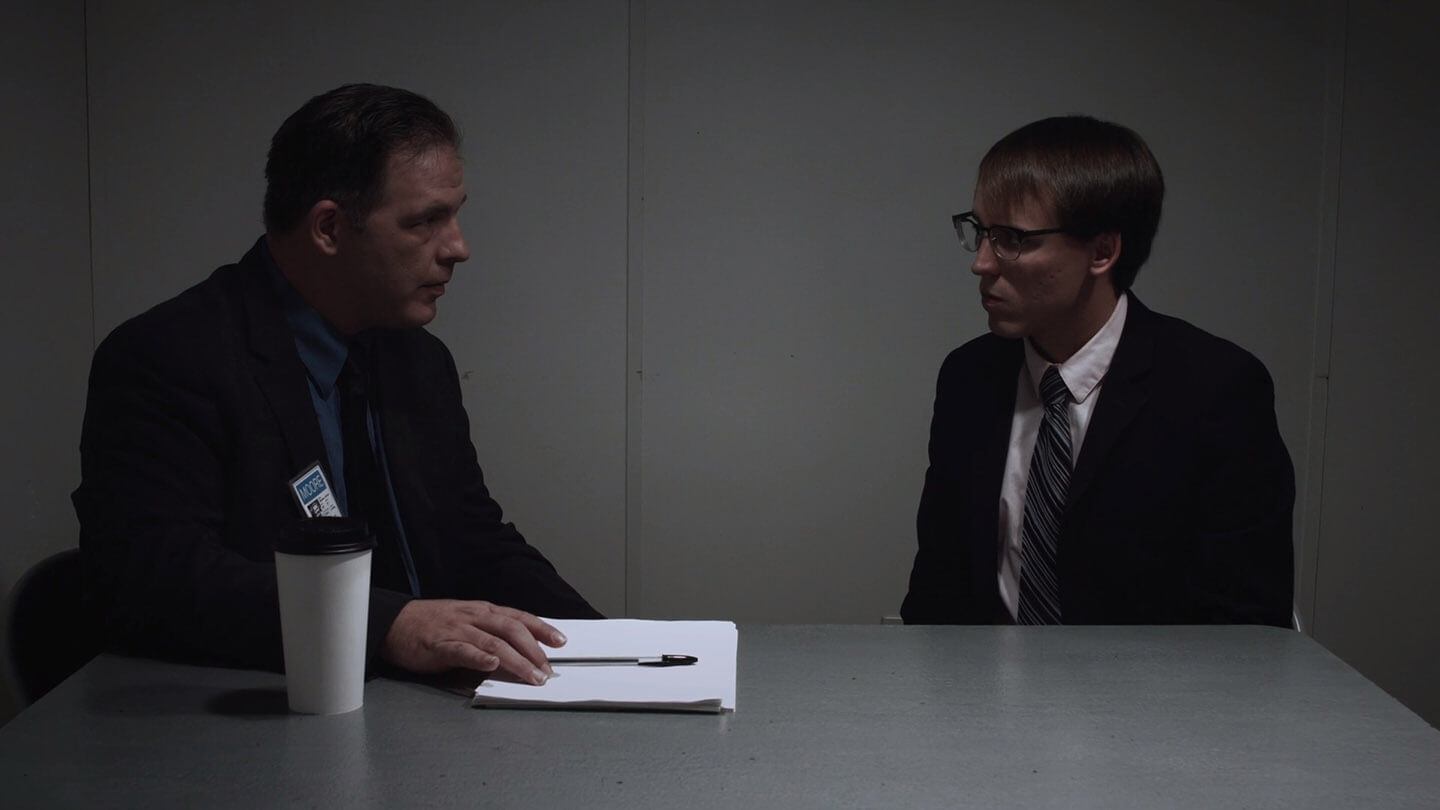 The eeriness of the overhead lighting and the background score set the mood: there is danger here. Indeed, the film focuses far more on the government side of things than the fascination and curiosity of having discovered life in outer space. The alien itself becomes something of a spectre on the horizon, while the real problem/threat is the government higher-ups, including the President. But the film is not without its moments of lighthearted humour. A sequence of jump cuts, used to portray Will's struggle with the alien, is amusing, and even lightens the intimidating air of his superiors somewhat. Will has the mandate to succeed, with a 30-day deadline. Barnes plays the part well; Will is clumsy, unassuming, humble, and generally demonstrates more respect and common decency towards the alien (both in its presence and otherwise) than his employers. 
Though the pace is rather underwhelming, the climax is a reinstatement of the importance of and need for humanity, empathy and connection, whether it is an alien on the other side, or all the life already inhabiting the planet. Maybe someday, before we are all dead, we might start listening.
Watch Classified Short Film Teaser Trailer
Classified: Aliens As An Introspective Tool
Direction

Cinematography

Screenplay

Editing

Music