One can safely theorize that after a global trauma that has already lasted one and a half years—and is still ongoing—there will be a plethora of art that will spring from it. While there is zero reference to the pandemic in Mason Thorne's Away From It All, there is still to the story and its tone a flavour that is chaotic in a distinctively pandemic era mood.
A mere five minutes long, Away From It All depicts a frustration to which most, if not all, are privy: the unholy combination of insurance companies, call trees, and worst of all, the occasions when you need to wade through their empty niceties to get things done. Shannon is the latest victim. The title refers to the beach trip she makes to manage the very relatable rage that the process wakes in her. Stephanie Barkley is a ball of energy in the role. The film opens with her trying to work up the patience to deal with her insurance company, just to be able to change her email address. The sheer triviality of the problem versus the grief it causes this character is both comedic and identifiable. Then comes Willow Hale, as an unnamed wise old woman. Dressed in white, she radiates serenity and wisdom. One feels strongly that this is not a person ever fazed by red tape.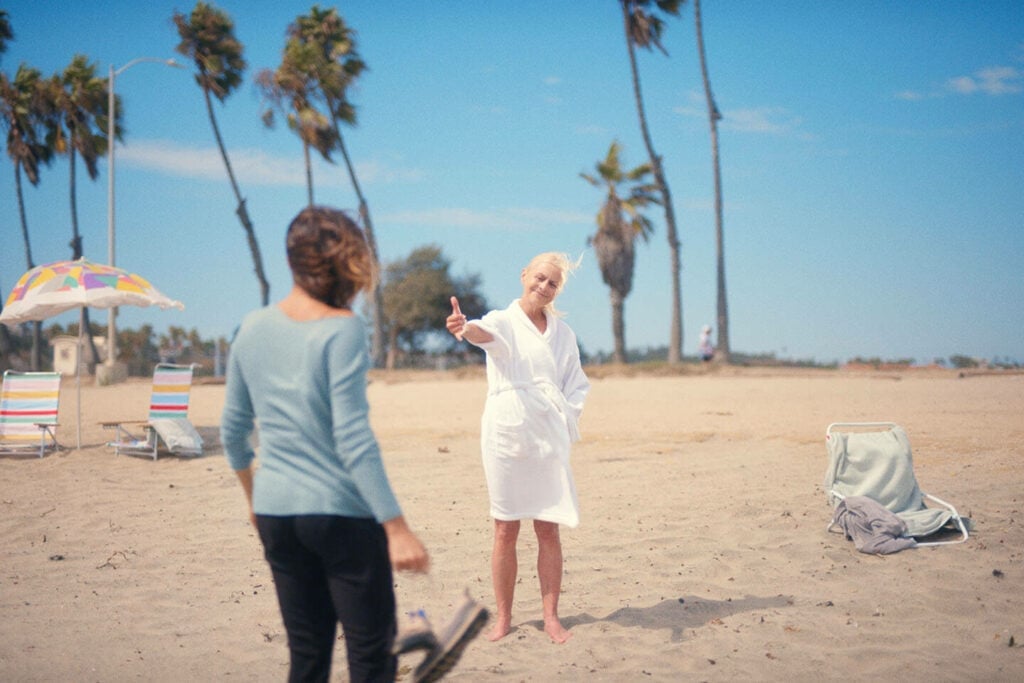 Shannon's brief interaction with her is a pleasant mix of comforting and humorous while the woman recounts the first time she ever had a smartphone. The conversation ends with her yelling to an angry (again) Shannon to pick up her phone. The quasi motherliness of it is the neat comic bow on this crackling narrative. In retrospect, it is perhaps Hale's character and performance that is the greatest source of that aforementioned chaos. The character, although serene, is also undeniably eccentric, almost like an IRL Anthony Hopkins.
Away From It All has no message to leave behind. With its varying warmth and unpredictable style of humour, it works as a respite from a stressful real life, not different from what its protagonist is seeking.
Watch Away From It All Short Film Trailer
Away From It All: Rage And Chaotic Comedy To Soothe It
Direction

Cinematography

Screenplay

Editing

Music