15:17-minute-long Full Throttle Paradise, inspired by real-life events makes its audience chuckle, guffaw and outright disbelieve at its modern-age quasi-mafia family meets an eccentric family storyline. And, as the star-crossed lovers' union is to be blessed (aka interviewed) by a relatively young woman who unwittingly gets pulled into the drama of her lifetime, you'd be forgiven for losing track of time! Outlandish, bizarre and ridiculous, this less than 20-minute is clearly what the quote truth is stranger than fiction lives up to!
Comedy is a hard genre. There are no trade secrets to pulling off a successful one. And, neither guarantees of your witty liners hitting the right note. But, care can be taken to ensure everything else complements the story and to writer-director, Nick Desimone's credit, not only does the star cast live up to the measure, but so does the cinematography, editing and music. Had it not been for the crisp cuts given by Daniel Simon and Frank Reynolds, Full Throttle Paradise would have lost half its steam and had it not been for the peppy composition of Joe Ferrara, the film is certain to have lost half its audience.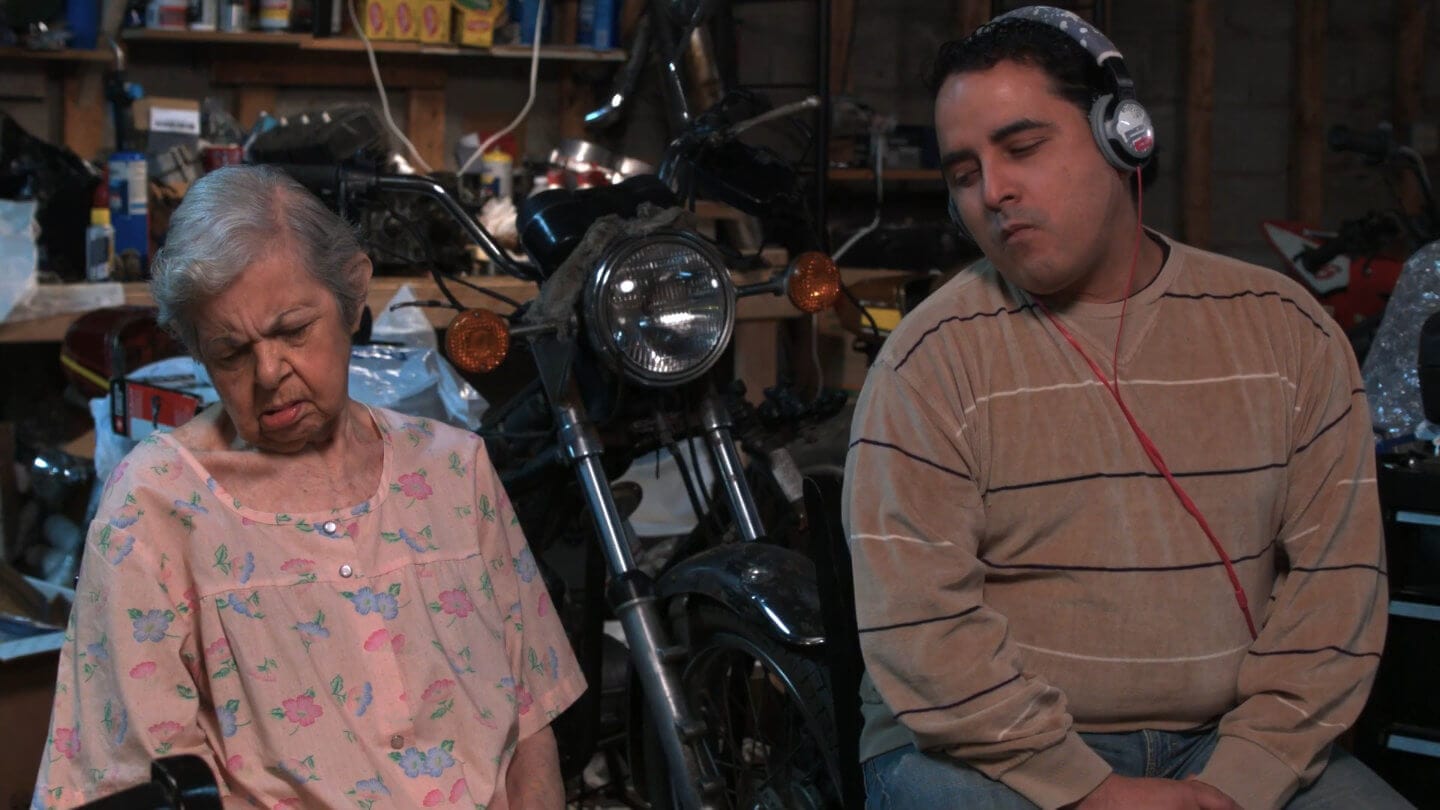 Dottie (Karen Giordano), our feisty little spirited woman has made Pat Padula (Robert Funaro) go diddly eyed. So lovestruck is our boy that his mere recounting of taking Dottie out on dates has him blush and fall in love, all over again. (Not fair to be blamed for this. After all, Giordano makes Dottie inimitably adventurous.) As Dottie's equally eccentric sons Chickie (Jason Furlani) a toilet paper artist and Gregory (Charles Casano), best described as the one with the arm-sucking fetish join the madness, tempers flare and simmer as everyone begins narrating their perspective.
What deserves utmost credit in this short, is the writing, which not only makes every character interesting, but also worthy of investment. By sharing the screen time to more or less equal proportion, Desimone transforms his characters into solo narrators of their story, the dividends of which begin to pay in multifold as the climax draws close. Three Dog Nat's Moto Hub that becomes the setting of the interview, also becomes the conduit of the backstories of the characters. The flashbacks increase in recurrence and break the monotony of the narrative keeping the audience engaged until the very end. A clever move for a film involving multiple characters.
As Dottie rebuffs Pat's unending attempts at convincing her to join him in his dream life, one that is close to the Corleone household, Dottie's own colourful personality starts to take over the course of the conversation. And when to that, Gregory's subject of interest, wakes from her reverie, the plotline takes off tangentially. Grace Padula (C.J. Gelfand), who happens to be Pat's mother, ultimately owns the scene, revealing just enough for us to fall back hard, both, laughing and grudgingly respecting the tiny little's person's might over her own life and certainly hand (pun intended)!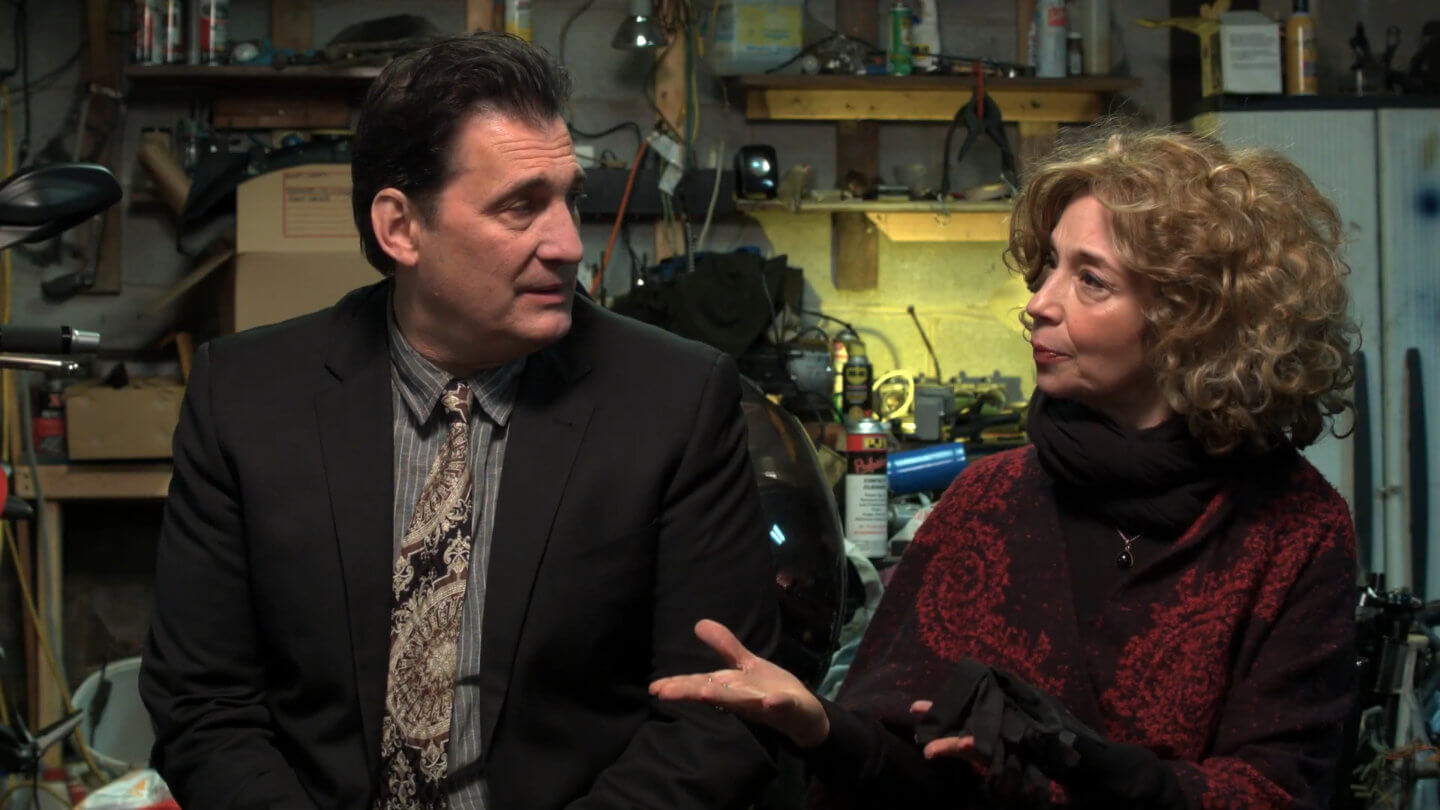 With so many characters, it is hard to summarise their contribution in proportion, but as Cousin Demont, whose backstory has revelled us comes to the scene unexpectedly, we know that Desimone knows enough about his craft.
George Gibson whose cinematography truly becomes a narrative of its own has interesting scenarios to flex his camera's muscles. Be it the Moto Hub or the opening shots of chasing Gregory or the languid shots across Staten Island, the lensing makes Full Throttle Paradise simply enjoyable.
As for Estelle Bajou, who portrays the interviewer with such naked vulnerability and compliance that had it not been for her presence, it would have been hard to find the focal point in this multi-starring, comedy-adventure of sorts.
Watch Full Throttle Paradise to immerse yourself in some head-spinning madness of the Dottie and Pat alliance!
Full Throttle Paradise: Easily The Wackiest Entertaining Short Out There
Direction

Cinematography

Screenplay

Editing

Music