With the year we have had, Don't Water The Vine seems like a natural product of it. And what a film it is! Perhaps one of the most unsettling 17 minutes that cinema will make you sit through this year, this Ian Bousher-Theo Gee dark comedy escalates and climaxes like precision-controlled nightmare firecrackers.
When it opens, its technical merit is immediately evident, although carefully revealed through the course of the film. We meet Cooper (Jumaane Brown), lying awake in bed, clearly wound up. He hits the alarm almost as soon as it rings, beginning his day with positive affirmations, and throwing up an intact grape. The day wears on, his boss (Stephen Sheridan) bullies him, his coworker (Jason Griffin) belittles him, and repeat. Another grape the next morning. At the end of a date, more grapes.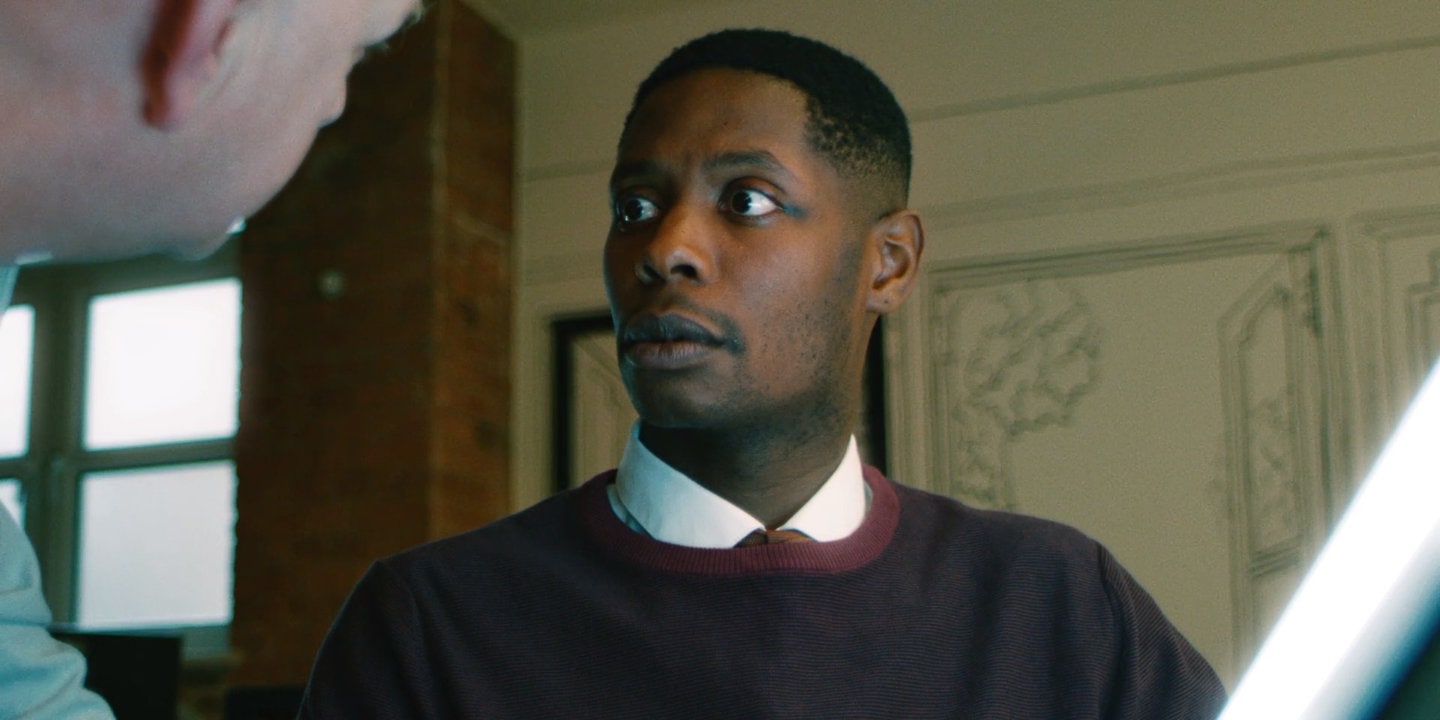 Cooper worsens rapidly, but at a pace, the film controls with admirable sensibility. One morning, the floor is littered with grapes. At the office, he is repeatedly unable to speak for the grapes he is gagging on. Any deeper thought as to what may be happening inside of him — taking the grapes in their literal representation — is one that may evoke considerable discomfort. Brown is remarkable. He embodies Cooper like a natural. And as for the grapes, he is constantly retching, there is never once when he is not Cooper and his debilitating anxiety. One must mention here that the idea of representing anxiety and dread through the ejection of the smooth, intact grapes is so brilliantly fitting, one wonders why it has not already been done.
The film's editing deserves particular mention for its very particular style, becoming a crucial piece in this bizarrely beautiful work. The manner in which it plays with sound design and music creates undeniable nervous energy. Certainly, its first use of music pulls up the viewer, shakes them thoroughly out of slumber, and dumps them in their seat. Impossible not to pay attention now. 
Cooper has his long-awaited, sharply built-up breakdown at the doctor's office. While the film's cinematography is unfailingly striking, here it truly peaks. The scene is magnificently disgusting, and in no part due to the work of the technical team and actors. The supporting characters are thematically perfect—all dominoes in Cooper's impending explosion. The actors are splendid in their roles, no exceptions.
Thinking over, if there is one thing that stays with you, it is not the projectile vomit-rain of grapes, or that horrifying climax. In fact, it is the film's intense nervous energy, which is what makes the grapes so impactful in the first place. A brilliant film, through and through.
#ShortFilmReview: Don't Water The Vine: You won't look at a grape the same again.
Click To Tweet
Watch Don't Water The Vine Short Film
Don't Water The Vine: Horror Comedy Like Never Before
Direction

Cinematography

Screenplay

Editing

Music