The obsessions of Charley, Shutter's anti-hero, is set forth in the opening moments of the film: beauty, perfection, flawlessness. A photographer, Charley's obsessions might have come across as benign under different circumstances, but being questioned about the immediate disappearances of women after he has photographed them raises a few questions.
Sitting in an interrogation room framed to look like it exists independent of time and space, nothing about Charley appears innocent. Actor JT Harper plays Charley with a coolness akin to Anthony Hopkins' Hannibal Lecter, but lacking the chilling menacing air.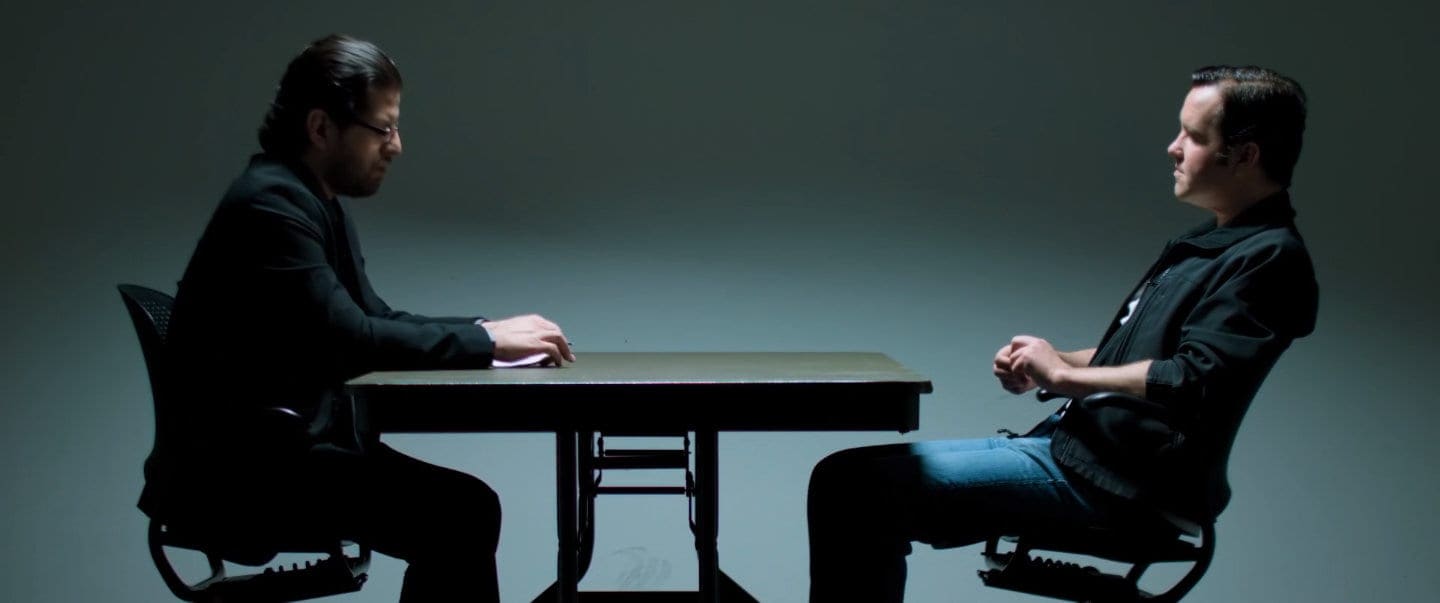 Andres Ramirez makes the detective, Mark (Justin Hernandez) a textbook cop with textbook questions. In a longer film, the questioning might have gone somewhere but in a mere ten minutes, the film manages only to cover a low stakes did-you-no-I-did-not song and dance routine. Although why Mark does not immediately jump into a more incisive set of questions is anyone's guess, given how obviously suspicious Charley is. This becomes a problem for the film, which tries to keep the suspense intact about Charley's role or at least make a satisfying reveal. But Harper's performance creates a character that reeks far too much of guilt for there to be any ambiguity. Resultantly, there is no real conflict between Mark and Charley, nor any payoff for the audience for whom the answer has been there from the get-go.
The shutter trick that the film uses to make its reveal is unsettling but ultimately unearned and therefore ineffective, i.e., there is no surprise. As for the victim in focus, Jane (Yhana Sibelle), she is given little personality beyond a fixed grin, the usual female prey/plot prop for the benefit of the male protagonist. It is true that time constraints such as these do not allow for a more fleshed-out character, but character fixtures are rarely not boring.
The plot points it explores, would have worked better in tandem with other elements that were excluded in favour of a shorter duration, making Shutter a film that dips its toes in the pool with ceremony but withdraws just before things get interesting.
#ShortFilmReview: Shutter: Who's killed the woman? Certainly not the obsessive photographer.
Click To Tweet
Watch Shutter Short Film Trailer
Shutter: A Whodunnit With An Easy Answer
Direction

Cinematography

Screenplay

Editing

Music