The eponymous Alan is a peculiar man, nonchalantly comfortable in his own skin, and yet there is a visible need in him to be seen and thereby, admired. Flora Tennant's Mr. Alan on Saturday watches Alan, played by Christopher Sherwood, on a momentous Saturday in his life, when his idea of himself is challenged and he is left to terms with the verdict. 
His confrontation with a possible true self is brought about by an interest in his co-godparent, Helen (Rose Wardle), on the Saturday of his nephew's baptism. To be certain, the interest is mutual; Helen looks on his antics with fondness: Alan playing the tune on a toy while the rest of the family sing hymns. The performance, in that cramped bathroom, is as much for her as it is for his general audience. The claustrophobic setting intensifies the awkwardness of it all and draws sharp attention to Alan's need for acknowledgement.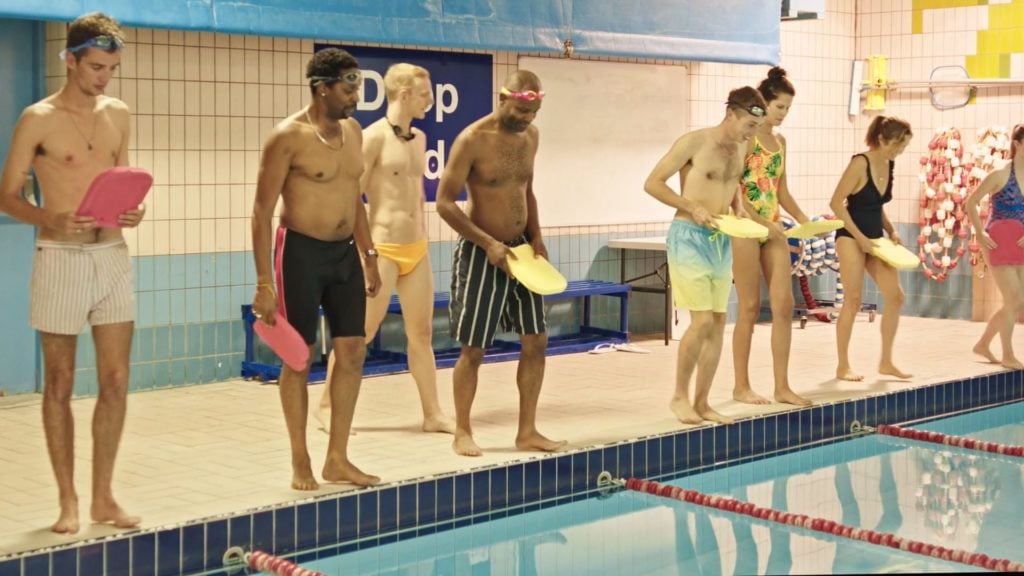 Alan's sunshine yellow swim trunks are a character in their own right; his relationship with them is a silent essay on his character. In fact, yellow is the predominant colour in the film, setting the mood and tone of the film, which of course, is ultimately a character study of the peculiarly exuberant Mr. Alan.
Later at the swimming pool, where the real confrontation takes place, Helen dares Alan to dive into the pool with her. Alan, so casually confident in his skin all this time, is tellingly fully clothed now, hesitant about taking them off and exposing himself to this person who sincerely sees, or wants to see, him.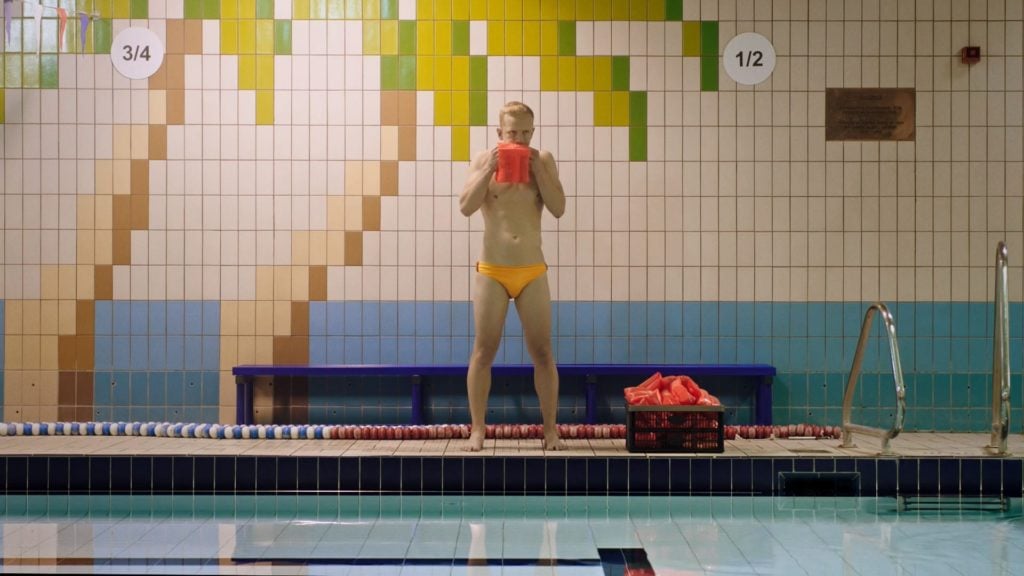 The climax is abrupt and anticlimactic; the final dive feels like a meerkat just ducked back inside its safe place and certainly, it feels true to the Alan we come to know over a 15-minute film. 
#ShortFilmReview: Mr. Alan On Saturday: Mr. Alan ran into himself on a Saturday afternoon.
Click To Tweet
Watch Mr. Alan on Saturday Short Film Trailer
Direction

Cinematography

Screenplay

Editing

Music