Discomfort – if one word could describe the effect and emotions Wives Of The Skies evoke in the viewer, it would be that – abject discomfort. Peering through the lens of cinematographer Davey Robertson, we see the two stewardesses, bold and vulnerable. Rachel Alig and Maddison Bullock play Fran and Marcy respectively, the two women who are the object of desire, judgment and study in this 21:29 minutes short.
Writer-Director Honey Lauren's Wives Of The Skies is as complex as its very misleading poetic title. Served with the famed Japanese art of bondage called the Kinbaku, what we have with us is a film on juxtapositions and dualities. A classic case of love versus lust, trust versus mistrust, freedom versus bondage. Highly complex in both its narration style and concept in itself, the film isn't for all, and certainly not for a one-time watch.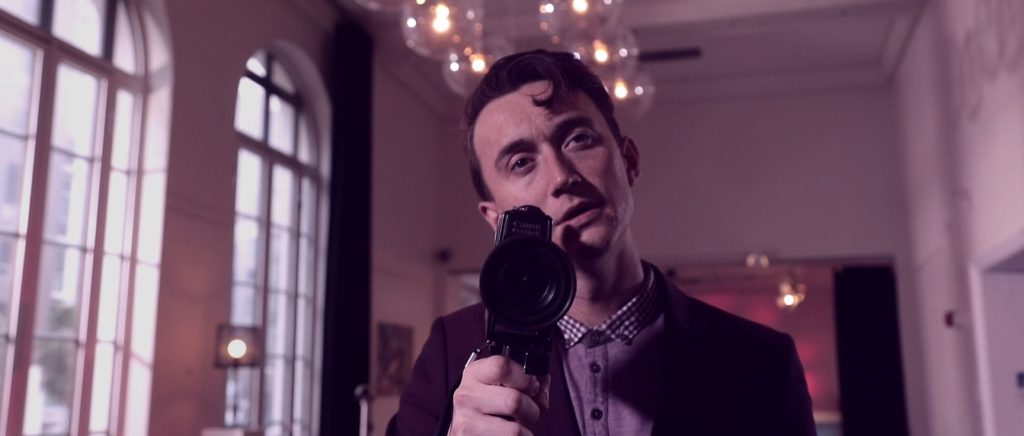 Wives Of The Skies opens to British photojournalist Derrick, played by Drew Brandon Jones who is out to interview his subjects for a 'documentary'. Fran and Marcy who are both stewardesses at the Fine Air Airlines light up the screen in due time. We see them, their cultured nails, the finely done makeup and the almost nubile demeanour they so effortlessly carry. As Derrick directs questions at them, Lauren lets her frames do the talking. We see these women through Derrick's gaze, a male gaze – objectifying them, compartmentalising them, reducing them to entities worth only one thing – entertainment. And, we feel the discomfort on behalf of all those who have been in similar positions. The complexity, however, is the ignorance exhibited by the women. They're gloriously unaware or worse still, indifferent to it, as would have been the cultural norm at that time. And, we realize this could very easily comply by contemporary times as well. Not much has changed.
When Derrick gets himself invited to their room, he is surprised, for what welcomes him isn't what he anticipated. With cameraman Kevin (Sebastian Fernandez) for company, Derrick plonks himself between these women and it plays out – their life story. We hear about it, in their own words, the training given, the aspirations already set for them and the joy they find in their confined spaces and stifling lives. Alig and Bullock are brilliant, all the way from their accents to mannerisms. Be it the hair and makeup by Francia Cohen or the uniform designed by Stephanie Scull, what we get is time travel to the socio-cultural settings of the yesteryears. Add to that Brandon, who with his hair reeking of pomade and unmistakable British accent, the casting (Brandy Davis) is just perfect.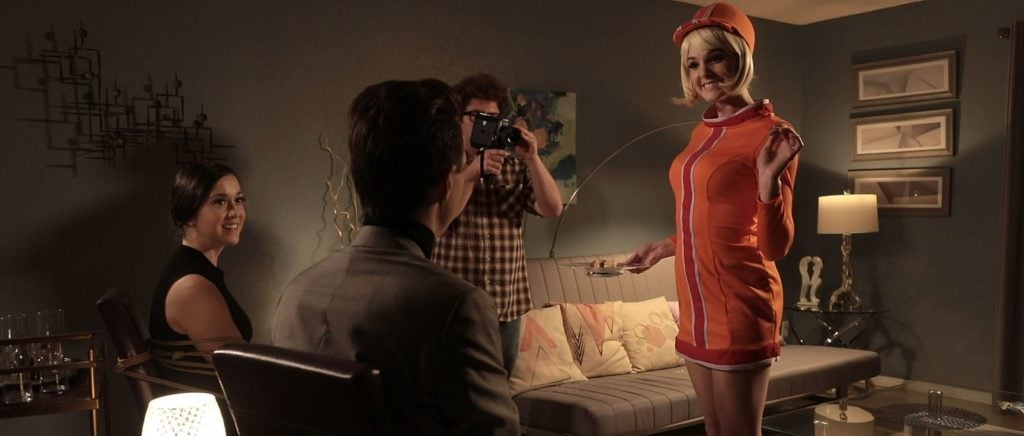 Robertson's editing maintains the pace of the film. It's neat and consuming. And with Master K's Kinbaku, the film adds multiple subtexts to its storytelling. Wives Of The Skies is perceptive, thought-provoking and both intentional and unintentional in its message conveying. When the veil of glamour and pretence are dropped, what we get are the raw reflections of individuals and societies, of realities that we wish to brush under the carpet, of Wives Of The Skies, whose stories are often dramatized but never really told for what they are – that of human bondage.
#ShortFilmReview: Wives Of The Skies: There's no love in the air here.
Click To Tweet
Watch Wives Of The Skies Short Film Trailer
Direction

Cinematography

Screenplay

Editing

Music