Under the directorial hat of Julia Nejman, 'I'm Good' is the verbal chronicling of Sigizmunda (Anastasia Kharchenko)'s very public nervous breakdown. Following the outburst, she is court-ordered to meet a psychiatrist. And, in comes the charming Dr Pinez (played by Esteban de la Isla)! Writer, Ana Archen and Ydalie Turk weave the story on the fabrics of a comedy sketch; but, 'I'm Good' effortlessly switches between comedy to drama. So, the story goes as follows. Sigizmunda, creates havoc one fine Tuesday by running through a Mall, naked. Was that intentional? Does she regret it? Her emotional breakdown deserves to be voiced. It needs to be heard. And, through Dr Pinez's counselling session, we are made privy to this brilliant soul's vulnerable breakdown.
Dr Pinez is an extraordinary psychiatrist. However, his success at helping his patients open up is put to test with Sigizmunda, whose tough exterior is a hard nut to crack. After several failed attempts and tried and tested techniques, he lets her have the say; and the words begin to flow… Archen, is brilliant, to say the least. She nails the character and delivers her monologue exceptionally well! The outburst of her tumbling emotions takes the narration forward to its ultimate climax. The subtlety shared by both the actors delicately balances the storyline; giving the dramatic Sigizmunda her passive listener in Dr Pinez.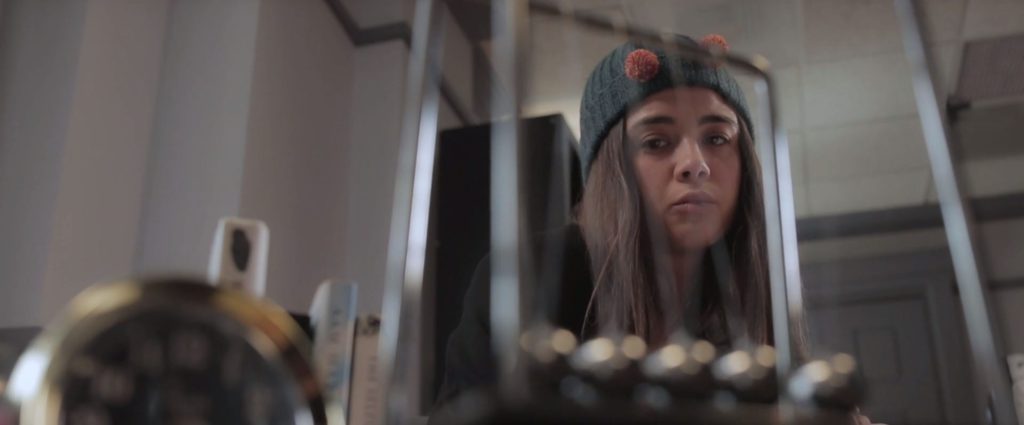 The mood of the film and its shifting genre is captured through the settings of the lighting incorporated. From a well-lit room, the camera shifts cleverly within the dimly lit interiors. The only source of key and fill lights provided, add the required shades to the canvas. The warm lighting facilitates the actors as the main subjects and magnifies their importance in every scene. Except for the actors, everything else is secondary; everything else is kept in the dark. Despite the runtime being as limited as 5:51 minutes, the DoP (Brandon Lattman) does a remarkable job at showcasing the setting as do the actors and the rest of the crew. Lattman achieves vividness in his shots: from capturing the oscillations of the pendulums to Sigizmunda's monologue; he uses close-up shots to wide-angle shots to bring the characters to the forefront; always…
The editor of the film Jimmy Chen does a brilliant job at keeping the movie steady paced, although the jump cuts from one lighting to another doesn't come across as seamless. The story and the direction definitely complement one another, while being well supported by stellar performances by the duo. The dialogues are witty, the sarcasm hitting all the right notes. You'd find yourself laughing one moment, while subtly tipping your hat to the ingenious writing deployed that manages to punch in several emotions within it minuscule timeframe.
'I'm Good' is every bit, worth your time!
#ShortFilmReview: 'I'm Good' Is A Cue To What Goes Beneath Emotional Outbursts…
Click To Tweet
Direction

Cinematography

Screenplay

Editing

Music