We can all empathize with office stress and the other-worldly thoughts that come to inhabit our minds in the midst of chaos and frustration, only to be subdued out of civility. Well, not so much for Bruce Nachsin, who brings to screen those hidden, suppressed inner workings of everyone's minds into a nearly 7 minutes' long film riddled with perfect comic timing and action sequences. Written by Gilbert Feliciano, Thekla Hutyrova, Katie O'Donovan and Nachsin himself, 'Lunchtime Is Over' reflects the immensity of stress at work through a comical gang brawl between two hierarchal levels in an office set-up during their regular lunch hour.
The film starts off with an inconsequential telephone call, which goes unanswered. Soon enough, the seniors storm in, into the employees' canteen to get to the 'task at hand'. And without a word, the brawl breaks out. The confrontation between the two opposing line ups, ready to pounce upon one another, waits for the slightest cue to unleash their vent. As we gulp down with Talin Chat, playing a seemingly newbie at work, the fight begins. The comedy is mainly delivered through the dramatic blows and impressive choreography that the stunt crew is clearly skilled in but delivered above all at impeccable timings. Nachsin plays a low-level employee, with Feliciano playing another, exhibiting good teamwork, action sequencing and fun rolling, in general.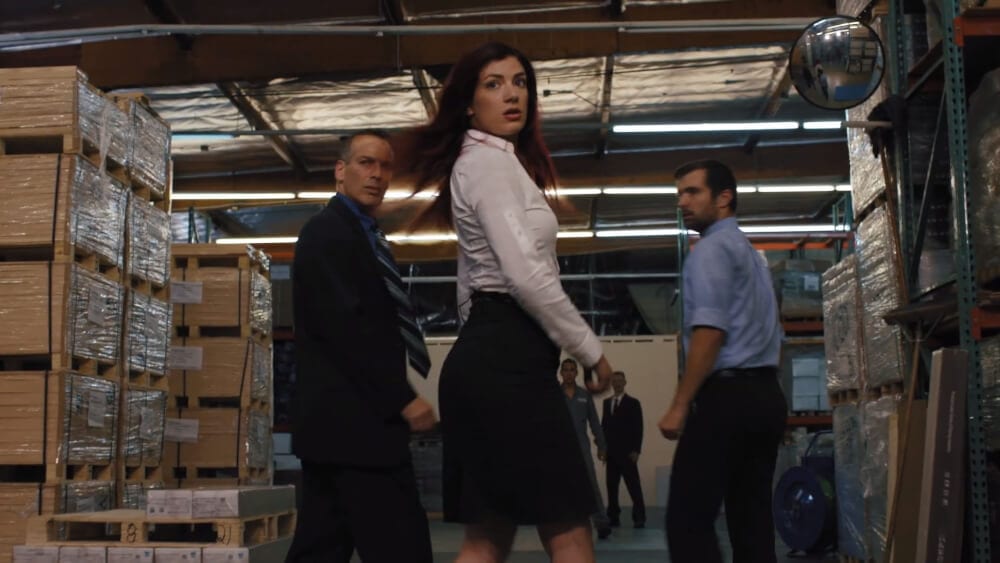 The music (Marcelo Quinonez) plays a good role in dramatizing the well-choreographed action sequences and building up the tension in the very beginning. Editor Meridith Sommers simplifies the action in any given frame for a meaningful viewing, thus rendering, ironically a pleasant visual. Quick zooming-out is perfectly handled to unveil the well-timed visual jokes. The action scenes aren't mechanical; instead, they are filmed to be dramatic, which immunizes the viewer to the violence and hence effectively succeeds in relieving stress with every punch thrown.
With only one dialogue, reserved to the end of the film, 'Lunchtime is over' fights its way to be funny with its easily-avoidable-lengthy runtime. Though supposed to relieve stress, building up of the same isn't actively pursued, resulting in stretched fighting sequences without so much as a narrative to support it. Also, there is a lack of impactful "action" that is in the style of action one sees in the Jackie Chan movies, which is what has reportedly inspired the action scenes in 'Lunchtime is over', and it tends to put a downer as it progresses. But the film ends soon, with a smack on the face, without tiring any of the viewers much, introducing them to the co-workers as the credits roll, giving it a fitting finale.
'Lunchtime is over' is light and yet, violent; comic and hilarious, intended to make its viewers giggle, and it manages to do so as it concludes.
#ShortFilmReview: What if your office frustration could find an outlet? 'Lunchtime is over' certainly finds one!
Click To Tweet
Watch 'Lunchtime is Over' Short Film
'Lunchtime Is Over' Is The Much-Needed Break From Work Stress!
Direction

Cinematography

Screenplay

Editing

Music