Produced by Emma Vaughn, 'Hideous' is a 16:33 minutes long film on the human instinctive reactions to unexpected news. When florist Marla Finch (Zoë Bullock) learns of her husband's demise in the most peculiar way possible, her world collapses, as does her morals; or does it?
Directed by Hamish Robertson, 'Hideous' is a thriller unlike any other. There are no in-your-face visuals or loud music used to sustain the plotline. Instead, writer Jim Rennie weaves a watertight script with thoughtful dialogues – a feat seldom achieved in this genre. Rather than relying on gory visuals, the film with its very urban setting and floral shop, of all the places, has everything in place for an emotional drama, or at best romance, but definitely not thriller! Perhaps that was the intent of Robertson any way; to surprise his audience, to catch them off guard, from their usual expectations, much like the protagonist of the film, Marla.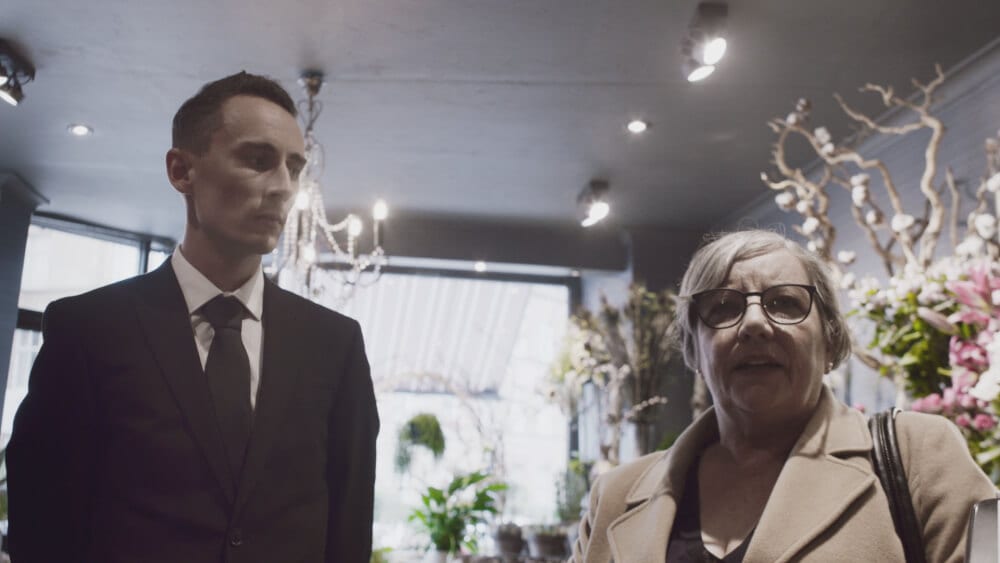 On a particularly cheerful day, Marla looks longingly at the note left behind by her husband Peter Finch (Ben Storey) in her sandwich box. It's obvious; this couple is very much in love. His scribbled love note and her photograph of him glued to her counter are all testaments to that undeniable fact. In comes a suave looking stranger (Craig Andrew Mooney); his mannerisms as peculiar as his arrival, the plot takes a dramatic twist hereafter. In his halting speech, he goes on to deliver the most shocking news to Marla, followed by a gory image of her husband, slit to death. He puts forward a clause and a revolver and you think you have figured out the rest… wrong!
Robertson is masterful in his endeavour at keeping the audience hooked until the very last scene. The plot twists and the climax are thrilling, no doubt; but also subtly philosophical, which makes this film unique. Rennie's writing is brilliant. The dialogues although sparingly used are thought-provoking, especially the conversation between The Suited Man and Marla, over flowers and wreaths. Bullock is outstanding, to say the least! She owns every frame and transitions effortlessly from the happily married to the aggrieved woman. Her face, a cornucopia of emotions; they become the canvas to her innermost feelings of despair and angst. Even her scream emotes; she is that good. Mooney is smooth; from his dialogue delivery to gait, he becomes the disturbingly mysterious stranger who shifts the trajectory of the plotline.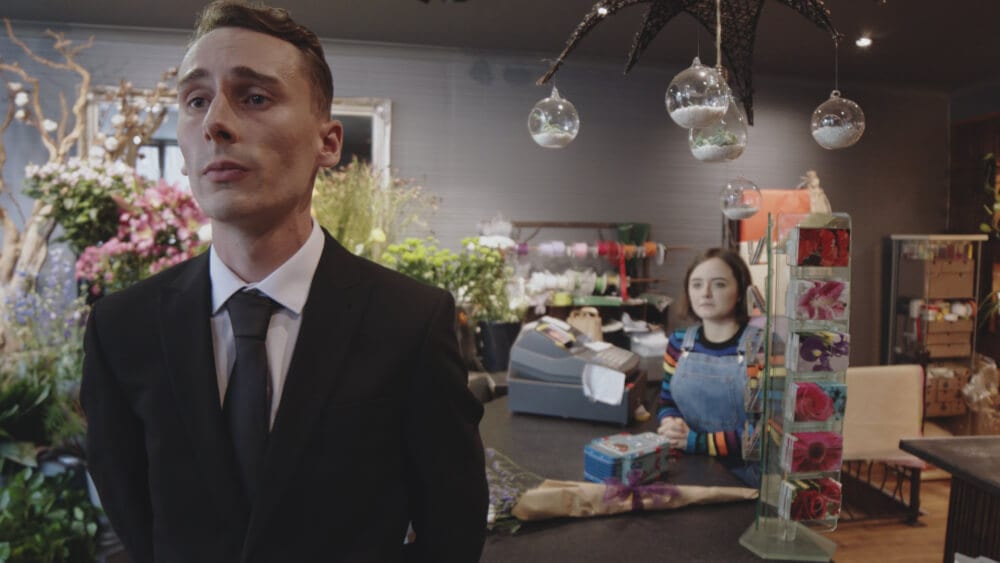 'Hideous' is entertaining, though-provoking, disturbing and yet one of the best thrillers out there, especially coming from the Scottish industry.
#ShortFilmReview: 'Hideous': The deadliest prank ever played!
Click To Tweet
Watch 'Hideous' Short Film Teaser