Have you ever considered the impediments of being a language handicap? Think of a situation, where you are in a foreign land and wish to try their delicacies, but can't, for the lack of language efficiency…. How does it feel? How would you salvage the situation? Would language be the barrier between you and your food? 'Coffee & A Donut' is a wonderful telling of one such man and his gastronomical pursuits that ultimately teaches him a lesson or two!
Multi-talented Cary Patrick Martin, Writer/Director/Editor/Producer of 'Coffee & A Donut' brings to us the story of Pablo, a Spanish immigrant, played by Memo, whose cultural and language barriers set the premise of this 11:28 minutes short. Pablo's halting English is the biggest challenge in his newfound home. And, as is evident from the restaurant he frequents, his lack of English speaking skills kills not only his confidence but also his appetite.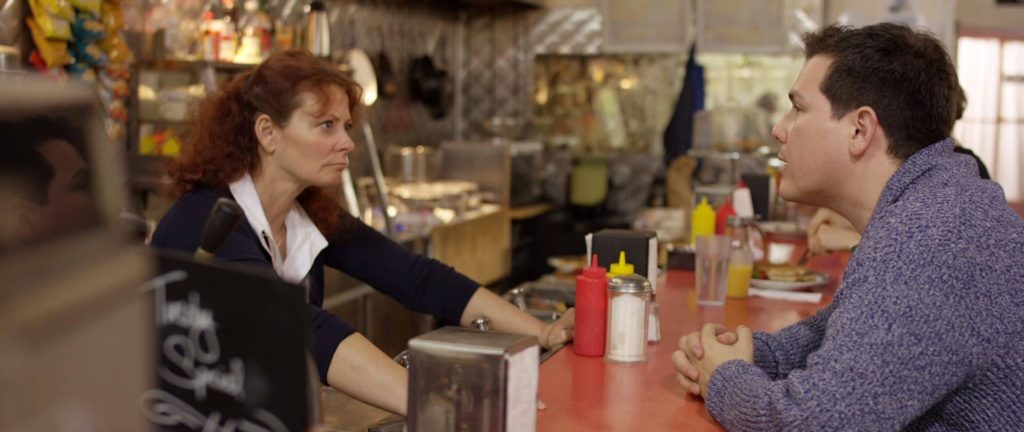 Martin's Pablo is an endearing fellow. Memo adds soul to the character. The eagerness he builds on behalf of Pablo for his audience is unmissable. Every time he places the order, the same one, you heave a little sigh for his sake and your own! When more appetizing dishes are served around him, you long for him as much as he does. And, just as you think all hope is lost, comes in Camila (Rocio Mendez). The nature of their relationship is so cheerful that you find yourself smiling the whole time. The credit to the pace of the film goes to Martin's editing skills. The narrative neither slacks nor rushes through leaving ample time for the audience to invest in the characters.
The very introductory scene of the film which shows the film's title is done so creatively that you know you're in for something special. Shawn Schaffer, Director of Photography chooses mid-angle, close-ups and medium shots to achieve that. Schaffer has been very consistent with his medium shots. One thing that stands out in his camera work is the variety he brings forth in his medium angle shots. The medium camera frame covers the conversations between Pablo and the waitress (played wonderfully by Dierdre MacNamara) or Pablo and Camila with keeping the field of view narrow which intensifies their moments shared. This definitely explains the film winning the 'Best Short Film' award at the Big Apple Film Festival in 2018.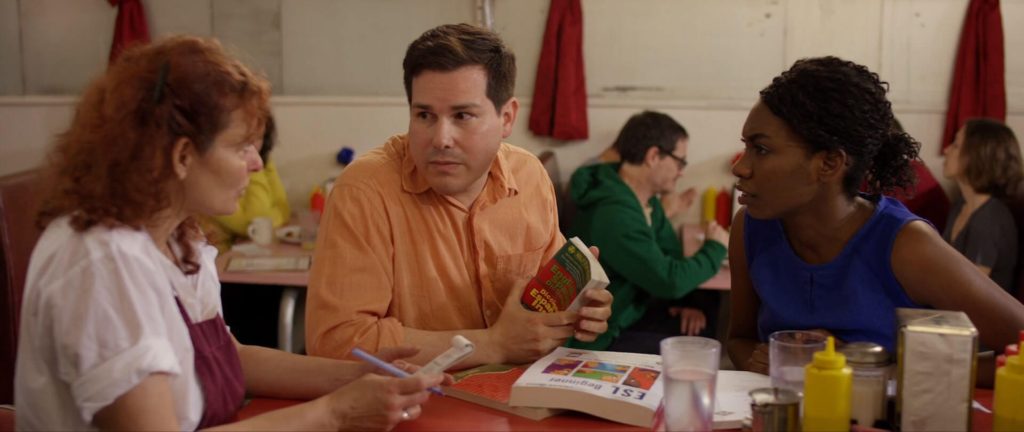 Memo's acting skills are splendid. His facial expressions are spot on. The helplessness, the confusing of hunger and desperation; all so well captured on his face and his mannerisms, his characterization is simply outstanding. MacNamara despite limited screen time leaves behind a mark. Mendez as the carefree entrant to the cast is a breath of fresh air.
#ShortFilmReview: 'Coffee & A Donut' Tells How Food Can Be Your Best Teacher, Ever!
Click To Tweet
Shot in a real location (Brooklyn, New York City), Martin opts for an authentic restaurant which makes Pablo's world real. Neither do the props, nor the extras look unwanted. 'Coffee & A Donut' is a light-hearted short that is bound to leave a smile on your face. It's heartfelt, genuinely warm and relatable in today's global world of migration and cross cultural existence.
Watch Coffee and a Donut Short Film Trailer
'Coffee & A Donut' Tells How Food Can Be Your Best Teacher, Ever!
Direction

Cinematography

Screenplay

Editing

Music