An aesthetic victory, Jesse Harris' 'Wind in the Night' showcases its director's cinematic vision and expertise over his craft. Guillermo (Salvador Chacon), a drug mule, leaves his family behind to embark on a delivery trip he is less than willing to undertake. But this is a Mexican drug cartel and one does not have the luxury of freedom. The film explores themes of conscience and freedom, and perhaps the existence of freedom in letting go of one's conscience.
In its opening shot, the camera slowly moves in to frame a man smoking a cigarette in his car, in the middle of a desert against the backdrop of a sunset. Next, we meet a haggard Guillermo, resigned to his fate, facing his family. Go he must, whether he likes it or not. A smoke darkened fireplace, the stain spread to the wall above, separates Guillermo and his wife (Mariana Vilchez) and daughter (Olivia Trujillo) as he breaks the news of his impending journey – perhaps a foreshadowing for things to come. While readying an ultralight aircraft, he receives an additional task – to deal with Roldan (Patricio Doren).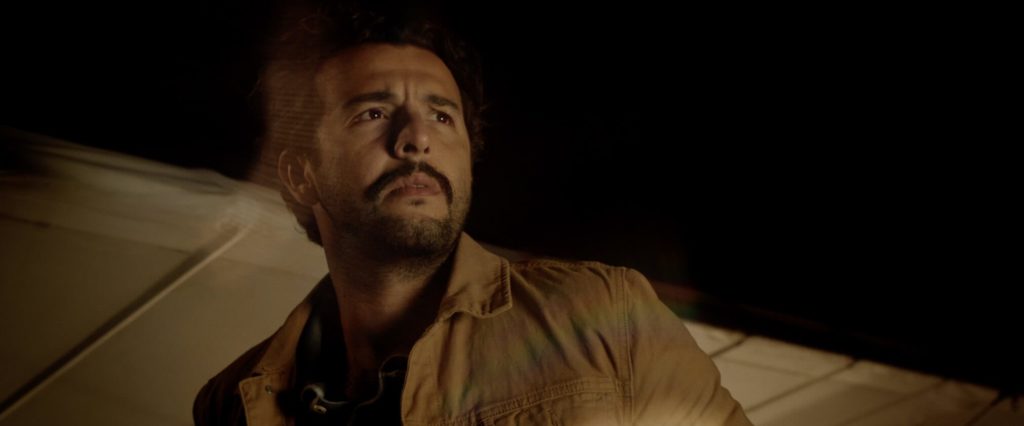 His subsequent arrival and delivery of the packaged drugs are a tense two minutes. Shot mostly in close-ups and mid-shots, Harris conveys tension with effortless dexterity. The question of whether Guillermo will carry out his orders or not, with the deceptive distance between himself and his bosses, or if he will find an escape is taut with suspense, built with camera pans and dialogue. When again Guillermo finds freedom dangled tantalisingly close, Harris uses cramped interiors to heighten tension and convey the man's feeling of being trapped. Chacon makes a strong performance, portraying Guillermo with vulnerability and a sense of defeat in his movements.
The colours in 'Wind in the Night' play an integral part in telling the story. Calm and relief is a warm blue teased with orange, suspense is a red, fear is are the glaring yellow headlights and when Guillermo feels trapped the most, it is the drab beige ofan oppressive yellow lightbulb.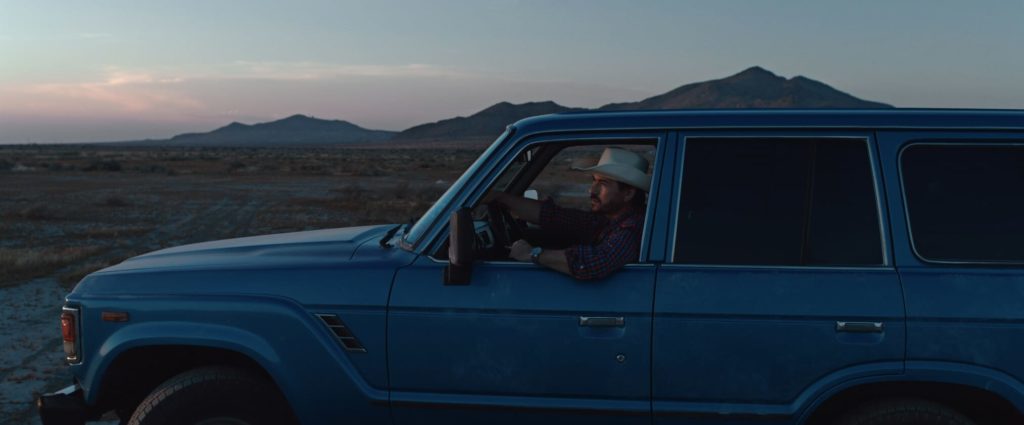 As the film closes, the camera slowly moves out to frame a man smoking a cigarette in his blue car, in the middle of a desert against the backdrop of a sunrise. The cyclic telling of the narrative isn't lost on the audience.
'Wind in the night' is about the conflict within oneself and the onus of making the right choices amongst the wrongs when the stakes are at its highest.
Highly recommended!
Watch Wind In The Night Short Film
Direction

Cinematography

Screenplay

Editing

Music