It's the festival of lights. You can hear the sound of laughter muffled under the bursting crackers. There's unbridled joy in the air and an unmistakable fervour. It's Diwali, the famed festival that carries the rich allegories of the good vs. the bad, the triumph of the divine over the evil! And, somewhere in India, Ashwini (Girija Oak) stumbles into her living room. Her unsteady hand reaches out to the wine bottle as she pours herself a drink; and we are drawn into this story of intoxication, addiction and retribution. But from what remains this film's narration.
Oak plays on our mind right from the first frame. Her kohl drawn eyes carry the desperation her demeanour bears. When she slumps on to the futon and smirks at her own fate, half filled with self-pity and helplessness, she is the picture of a woman lost. Navjyot Bandiwadekar's 15:00 minutes' long 'Quarter' is her story; a 30-year-old, working professional from a middle-class household whose life has been overpowered by her alcohol addiction. And, it isn't that she is unaware of the problem. She constantly talks it out with voices from the background dropping hints into her lifestyle, choices and habits. She retorts at times and meekly agrees at others. And, we wonder who these people are as the conversations continue.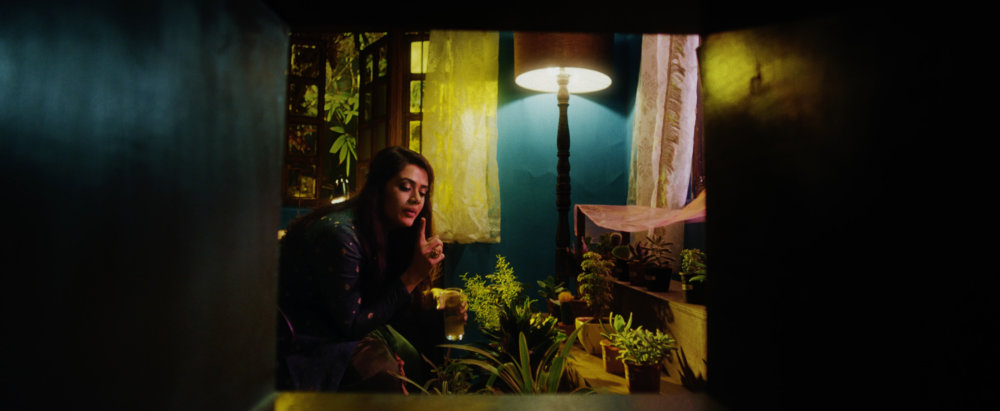 Aalap Bhagwat who has written the story and dialogues has carefully crafted the words giving away just enough to keep us engaged at the same time guessing at the rest at play. The monologues are particularly brilliant and so are her internalized conversations and the ones she has with her plants, to name a few. Edited by Ashish Mhatre & Apurva Motiwale, the narrative explores the reason behind her addiction in a peculiar fashion. We see her spiral into a dreadful bout of sickness only to regain her composure and continue with the rant. We see her stumble across the hallway to the bedroom where lies her beloved. We believe the sights, the sounds and all that is being projected until the stark reality hits upon us from nowhere! To Oak and Bandiwadekar's credit, the shocking projection of reality indeed remains convincing.
We often categorize the addicted as the unwanted of an otherwise civilized society, the weaklings who couldn't make it. But, perhaps a second glance might offer us a different perspective. 'Quarter' is that tale. Through the eyes of Ashwini, we see her world, which is perfect, albeit only when she is inebriated. Her sober self is drowned in misery, an addiction of a different kind. In a fitting conclusion, Bandiwadekar brings the film to its end with a thought-provoking analogy on addiction.
And, as for Ashwini, to find out if her Diwali too concluded with the victory of the righteous, watch 'Quarter'!
Watch Quarter Short Film Trailer: 
Addiction Couldn't Have Found A Better Voice Than 'Quarter'!
Direction

Cinematography

Screenplay

Editing

Music