This one will put all vigilantes to shame, for director Jeni Jones packs in a sinister, dark foretelling of modern-day vigilantes, and wait for it, they're all women! At 11:06 minutes, Club Rat$ is a rollercoaster with a twisted sense of humour, unusual narration, novel characters, and all served with a sackful of sweet justice. The film opens to a gang of girls entering a club with a single motto that unfolds halfway through the film. The camera ravishing hypnotic shots of them within the kaleidoscopic indoor lights of the partying club, they are deliberately made to look misleading, so that when you're rerouted to an even better premise, you know you've made a good choice.
Written by Jamie Miller & Danene Montella, 'Club Rat$' isn't an endeavour to create a utopian world, far from it, it's a mirror image of today's reality. Predatory men, sex offenders, victims, survivors; all cohabiting a world where the system has clearly failed to mete out justice. The writer duo face the challenge of creating a script that is neither patronizing nor an in-your-face-kind-of-feminism endorsement. Miller & Montella prove to be a force to be reckoned with, for their 'Club Rat$' delicately balances the narrative between the victims and perpetrators and then goes so far ahead as to flip the narrative bringing in elements of Robin Hoodish justice, reconciliation and renewed vigour to take on the world. It's an undeniable victory for a script that could have easily lost its plot!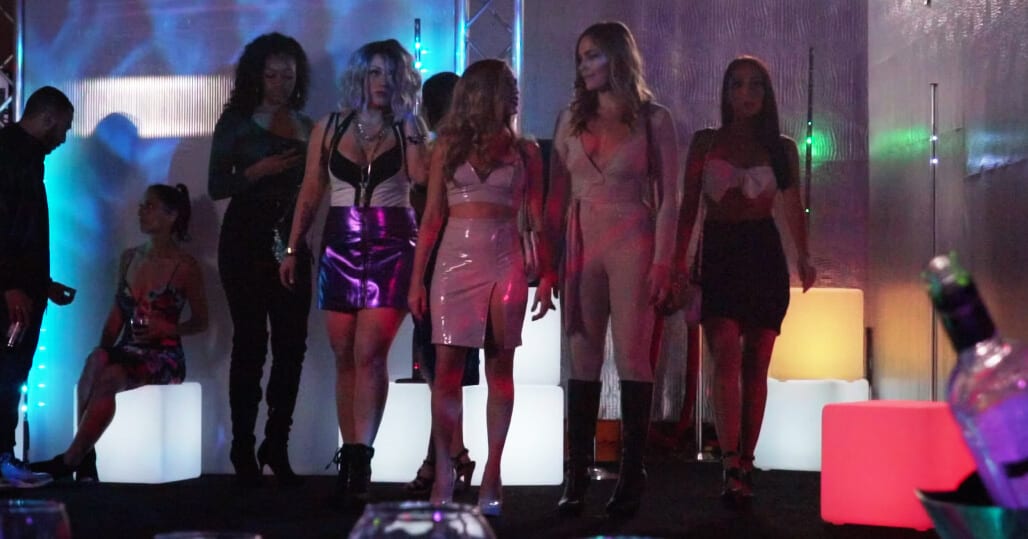 The film follows a girl gang of vigilantes who have taken it upon themselves to bring back justice to a skewed society that lets predatory men loose, risking the safety of women. Unlike the usual movies that deal with the same phenomena, 'Club Rat$' is unusual, both in its storyline and narration. The girls embark upon an initiation ritual for a new member whilst demonstrating their unique, risqué method that is purely concocted by them. As they begin their little 'play', the hunter becomes the hunted. Dark secrets come tumbling out as the conversations between the girls deftly move from witty to empathetic to anger. The entrapped guys become the boiling point of a climax that is far more satisfying than any jury's verdict!
Tyler Ham Pong's editing may beg you to keep up with the pace, but it's worth the ride on this less explored theme. The girls' and the rest of the cast do a wonderful job at fleshing out characters from paper to screen. Donald Brownlow's cinematography does justice to the dual tone the story carries by capturing indoor and outdoor locations, mostly in the dark, adding a feel of prowl to it. Lucas Bakker's composition is brilliant, adding impetus to each scene and character.
'Club Rat$' hoists the feminist flag, no doubt, but it also showcases what it feels like to be a woman in contemporary times and what it takes to remain so. Kudos to the entire cast and crew for presenting such a novel theme! The message is loud and clear – Time is up, indeed!
'Club Rat$' Gives Premonition To New Age Feminism
Watch 'Club Rat$' – Short Film Trailer
Direction

Cinematography

Screenplay

Editing

Music