Jonathan Fernandez directs this mockumentary, a parody of Alex Jones (his fans wouldn't be too pleased), an American conspiracy theorist, pro-right wing and always at the epicenter of controversies!
Media Wars is a nearly 25 minutes' long burlesque that offers a spin-off on everything that has come to dominate our news channels these days. From covering protests to questioning media's authority and supremacy, while facing lawsuits regularly, Media Wars covers it all. When an interviewer questions former employee over her take on the company's matters, her forced smile and well-rehearsed answers will nudge you to recollect where else you have seen similar responses…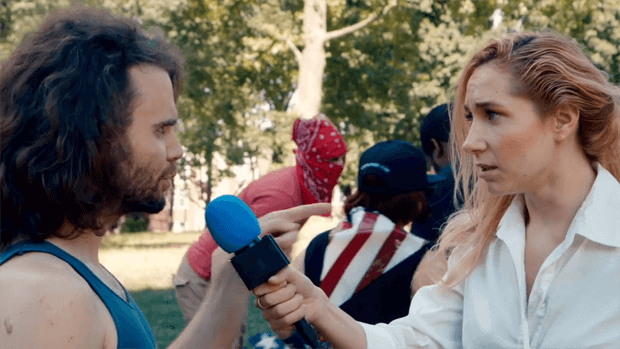 George Boseman who is credited with both; writing and playing Alan Jones does an outstanding job of bringing to screen an out-of-the-box sketch, with a writing that is as fresh as it can get. Generously peppered with sarcasm, wit and slapstick humor, Media Wars is a laughathon that is the need of the hour, considering the present political environment.
The casting is interesting with Elle Nelson, Klye Glasow and Charis Retherford playing Katie, Brian Bee and Marsha Klein respectively. The characterizations and impersonations are so achingly comical that this pilot perfectly embodies the current travesty we have all come to become a part of.
What compels to give Media Wars a salute is the fine editing carried out by Matthew Tibbenham and Colin Simmons. The cuts and the after-shots are so clean, that it doesn't hamper the flow of the narrative. So is Aaron Kenny's music, which adds tempo to this must watch!
Watch Media Wars the Mockumentrary here.
Media Wars, The Alan Jones Story – Mockumentary Review
Direction

Cinematography

Screenplay

Editing

Music