'Scraps', a short practical effects film that uses a mix of live action and puppetry will be launching exclusively on the social network Vero on today(April 23rd).
'Scraps' tells the story of a boy made of trash, built by his lonely creator Gordon Grott as a surrogate for his estranged son. When Scraps comes to life one day and sees what a perfect family looks like, he decides to try and bond with the only father figure he has.
Writer/Director Chris Brake commented "I created the character of Scraps because I wanted to tell a modern fairytale that would talk about experiences of non-traditional family units. The character of Gordon Grott takes this to a strange extreme when he finds himself so lonely that
he decides to build his own out of trash. But behind Gordon's seemingly absurd actions there's really a kind heart, and like all good fairy tales, it becomes a fable about finding acceptance and living the lifestyle that brings you happiness, no matter what others may think. For me that's the essence of Scraps' story; we don't choose our family, but we certainly make them."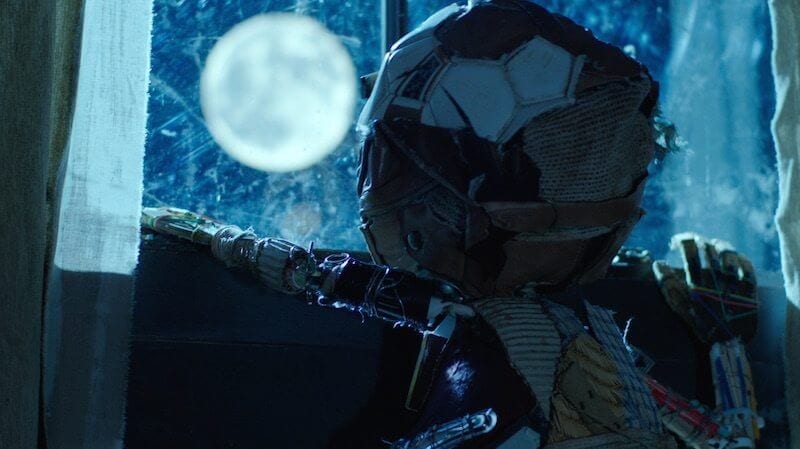 The heart of the film is undoubtedly the puppet playing the titular character, which was designed, built and operated by Oliver James Hymans. Oliver is an award-winning London-based puppet artist whose work has been presented at the Little Angel Theatre, Tate Modern, and The National Gallery. Most recently he provided the puppetry for 'How A Kite Flies',
where his character was voiced by Sir Ian McKellen.
Director Chris Brake is a final year student at the London Film School.  His first short film 'Nest' was a semi-finalist at the Berlin Student Film Festival, where it was nominated for the Juror's Award. Most recently he released a short documentary on 'Polari', which examines the lost slang language of gay men that was used up until the late 1960s. For his next short film 'Cactus Boy' he'll be working with some of the artists behind the puppets on the new Netflix series 'Dark Crystal: Age of Resistance' to tell the story of an imaginary friend who happens to be a giant cactus.
Scraps Short Film Trailer
Direction

Cinematography

Screenplay

Editing

Music