Actor, writer, producer Jamie Robson has the greatest affinity to acting. And perhaps rightly so, for his career has found the most critical acclaim and recognition for his work as an actor – his films have premiered at TIFF and BFI, won awards at Sundance and even a BAFTA. An interview with the celebrated actor and notable British Weird Wave figure. 
How much of your performance sticks to the script and how much is improvised?
I'm a firm believer in the magic of the material. I try to honour the writer and function as a conduit for their story. I always presume they've pored over every word for months, so I don't suggest edits whimsically. In this regard, I adhere to the script. However, when the situation requires – particularly if I'm working closely with the director – I do enjoy improvising dialogue, blocking and circumstances. You either discover exciting new ideas, or deepen your appreciation for what the writer has already mapped out.
You have studied filmmaking. What made acting important for you?
When I studied filmmaking, it was observing the actors that either interested me or disappointed me. I wasn't overly driven by cinematography or score. I just remember being jolted out of suspended disbelief when the acting felt untruthful. So it was quite a natural process to move away from filmmaking and towards acting because it interested me the most.
Blue Christmas sees you as this haggard sort of man who, while he contends with his own failing home, has the onus of collecting debt during Christmas from people who are struggling themselves. And then there is My Loneliness is Killing Me, where there is indeed a profound sense of emptiness in both your character and Elliott. What draws you to this thematic contemplation on loneliness and pain?
I'm not sure that I'm drawn to those themes specifically but I am interested in darker material that will challenge me and hopefully the audience. That's not to say I won't do a comedy or rom-com. However, I do believe there's more room for Stoicism in the arts, particularly in film and theatre. People are often hypnotised when witnessing another human endure and not necessarily overcome. Sometimes I want my characters to feel like they were created by Egon Shiele or Edvard Munch. I want to show people parts of themselves that they don't admit to, even to themselves. I want to make the audience both voyeur and subject.
That makes one wonder in general, how do you, Jamie Robson, decide which projects to get involved in? Is it the character or the plot?
I've changed how I choose my work. It used to be heavily influenced by the script. I'd pore over the material and would often turn projects down if I didn't appreciate the content. Nowadays, I'm almost the opposite. I realise it's a director's medium in some sense. I understand that what I read may not be what I see come the final-cut. So, I put my faith in the hands of the director. If I admire the director, I'll probably say yes before even reading a script. If a great director pitches a great idea, I'll get onboard without fuss. I don't care what my character's name is or what they say, I'll always do my best and if I'm happy with my performance, I sleep well.
With such a potent, explosive energy about My Loneliness is Killing Me and your character, Jack, what was your preparation process like?
Jack had a very physical energy. I wanted to add muscle but left it too late so added fat instead because it's quicker. I did however, do neck exercises to go up a collar size. So when I gained some weight, thickened my neck and buttoned my shirt right up – I achieved the look I wanted. I also watched (inexplicably) Last Tango In Paris every single night of the shoot. There's lots of secret homages to the film in my scenes, for example, sticking my chewing gum to the bannister.
Coming to Not Required Back, this is a spectacular take on portraying loss, shock and again, that same feeling of emptiness – how does this tie in with Brexit?
Not Required Back was set against the pressures of the Scottish oil industry, the looming potential of Brexit and the human cost of unemployment. We didn't set out to make a Brexit film but it has since been described as one. I think because it's weird, abstract and ambiguous, like our current political climate seems to be.
How does a low budget affect filming for you as an actor?
It doesn't make any difference if I like the director. Low budget positives such as more creative freedom, more spontaneity, more room for collaboration, etc. usually balance out any possible negatives.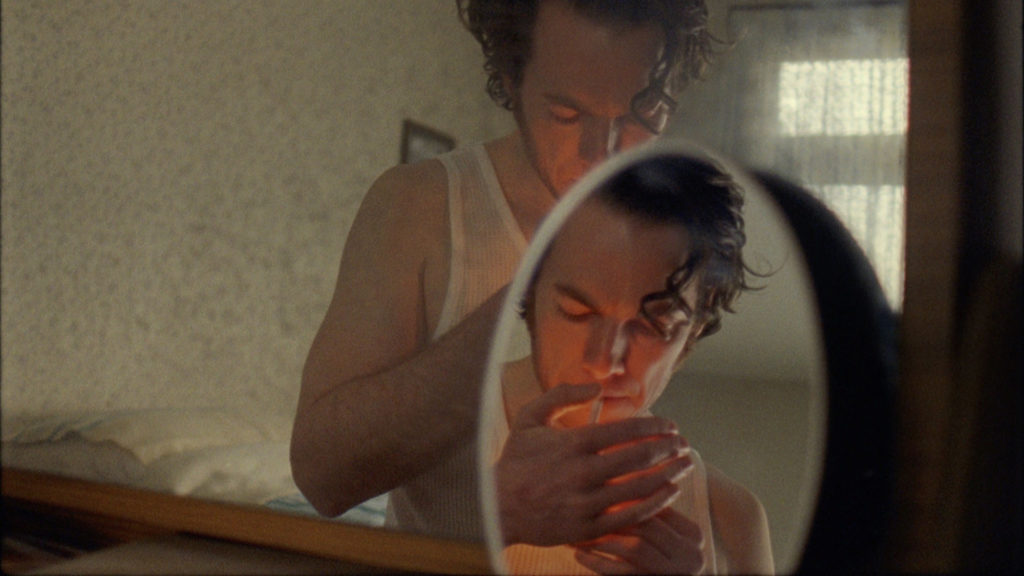 The films you generally take up have a strong focus on the characters, staying up close with them and focusing on how they act and feel. How do you negotiate your performance with a camera in such cases?
Sometimes I just ask what lens are we on and how much room do I have. Once I know the boundaries, I'll do my best to adhere to them. The camera is this thing that you must never acknowledge but simultaneously give everything to. You need to sometimes dial up or down depending on the lens and composition while keeping an awareness of the mise-en-scène. I can best describe it as a technical version of public-solitude.
One can imagine that with such strongly affecting films such as Not Required Back and Blue Christmas, there must be a lingering impact on you as well as it does with audiences. Does this happen and if so, how do you process it?
I've never felt any real detrimental effects from a project. However, when I transitioned from shorts to features, the emotional fatigue was greater, simply because you're on set and in the process for longer. I aim to learn something from every acting experience, regardless of the character I portray. I take the idea of being educated by a role, very seriously. Acting is very much my operating system for life, like a religion.
Besides being an actor, how else are you involved in the short film industry and filmmaking?
Although I don't usually perform in short films anymore, I'm a patron for two festivals that focus on the format. There is no doubt shorts were an essential part of my journey and I enjoy supporting that part of the industry because it functions as a safe space for aspiring filmmakers, writers, producers, actors and more, to find their feet.
Direction

Cinematography

Screenplay

Editing

Music