Chris Quick's 26-minute comedy Autumn Never Dies is the sequel to The Greyness of Autumn, centred on the life and misadventures of Danny the ostrich and Nelson the monkey. In Autumn Never Dies, Danny tries to move past his heartbreak, while Nelson moves deeper into his shenanigans.
Co-written by Andy S. McEwan, the film enjoys and leans into the farce of a puppet ostrich with problems serious enough to have a. shot himself and b. survived it. But that is just where it begins. The story is largely narrated in flashbacks; Danny (Duncan Airlie James) is at his therapist's office, talking through the recent events which have developed into a relationship crisis for him.
Danny's story is connected to and influenced by Nelson (Quick), his loud, impulsive best friend. Nelson is responsible for his meeting with Lizzie (Nicolette McKeown)—right after coming in last at the Pub Quiz with a mere 2 points. It is not surprising when Nelson's answer to Berlin's location is Greece. Nelson is drawn to be the archetypal blundering, overconfident friend who has more spirit than sense in him. His banter with Barry (Neil Francis), the pub quizmaster, makes for its own amusing back and forth sequence. In contrast, Danny is the quiet one. Perhaps no brighter than his friend, but certainly with enough reserve to mask it behind. Danny hits it off with Lizzie. The subsequent scenes once again make full use of Danny's puppet ostrich status as the duo spend the night together. Nelson spends the night with Lizzie's friend.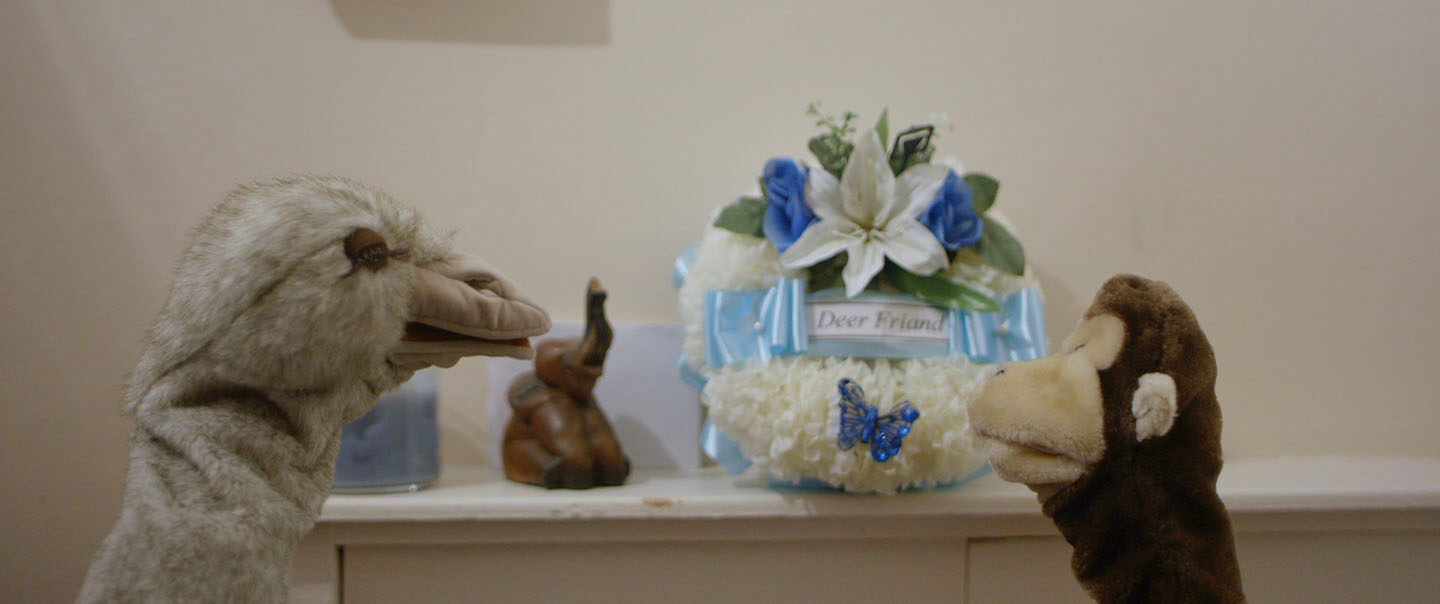 Trouble comes in the form of Danny's ex's reappearance. Katie (Amy Ebbutt) is unhappy with her boyfriend, whose disappearance a few weeks ago may or may not be Danny's doing. Her desire to reconcile sends Danny into a crisis. Does he still love her? Does he want to be with Lizzie?
It is this that leads Danny to seek help from his therapist, who suggests as all movie therapists do: listen to what his heart wants.
Autumn Never Dies tells a classic rom-com tale that blends with the buddy comedy, but with an inherent bent towards comedy that it could not do away with if it tried.   
Watch Autumn Never Dies Short Film
Autumn Never Dies: Love and Heartbreak for a Simple Ostrich
Direction

Cinematography

Screenplay

Editing

Music