This one is for the keeps! A poignant addition to your library that will come in handy every time you or your friends decide to not take your brain along for your date. A 10-minute laughathon at the expense of Barry and the hapless companions of his double date, She's Not Your Type is rich in dialogue and humour.
The highlight of this film really lies in its dialogues and its near-perfect delivery by the cast. A through and through comedy that runs across all its sub-genres from blue comedy to shock, writer-director Matthew C. Vella's short is an interesting addition to rom-coms for anyone willing to take the bite.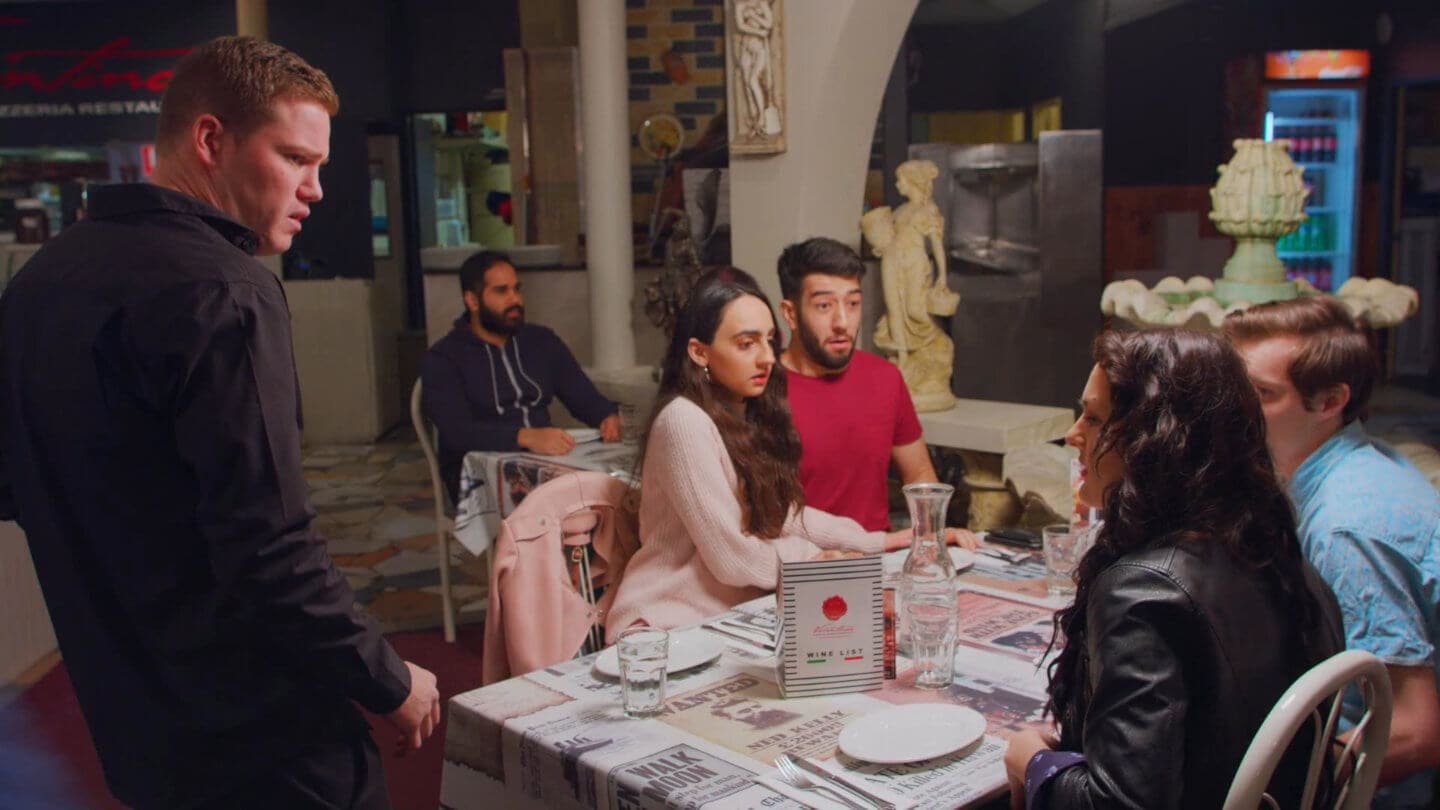 Anthony (Efkan Cetin) and Sarah (Zoe Panaretos) have been wanting to set Barry up with someone for ages now. Tired of seeing their friend mope and remain single, the two engage in a fair bit of coaxing, and finally, see results. But 45 minutes of waiting for Barry's date to show up, and the two well-meaning friends find themselves reconsidering their relief.
Luke Walker (cinematographer) lets the camera sink in Alex (Adrianne Gullotta). The slow-motion capture of her entry, the editing (again, by Vella) most noteworthy here, lets you know who is the epicentre of this film. She is not the protagonist, considering how the screen time has been equally shared by all the characters, but she certainly remains the focal point to whom they (and we) return to ever so often.
Alex is everything you would have dreaded, she is everything you would have imagined. And Gullotta plays her to the hilt. She is sassy, witty, spontaneous and ridiculously offensive. As if the charm was not enough, it is also the way the rest of the characters react and respond to her that makes her character enjoyable. Clearly, care has been taken to ensure that none of them turn into caricatures or stereotypes (although, it is not hard to see through the anti-humour). The dialogues border on outright eccentricity as they escalate from varying levels of sanity.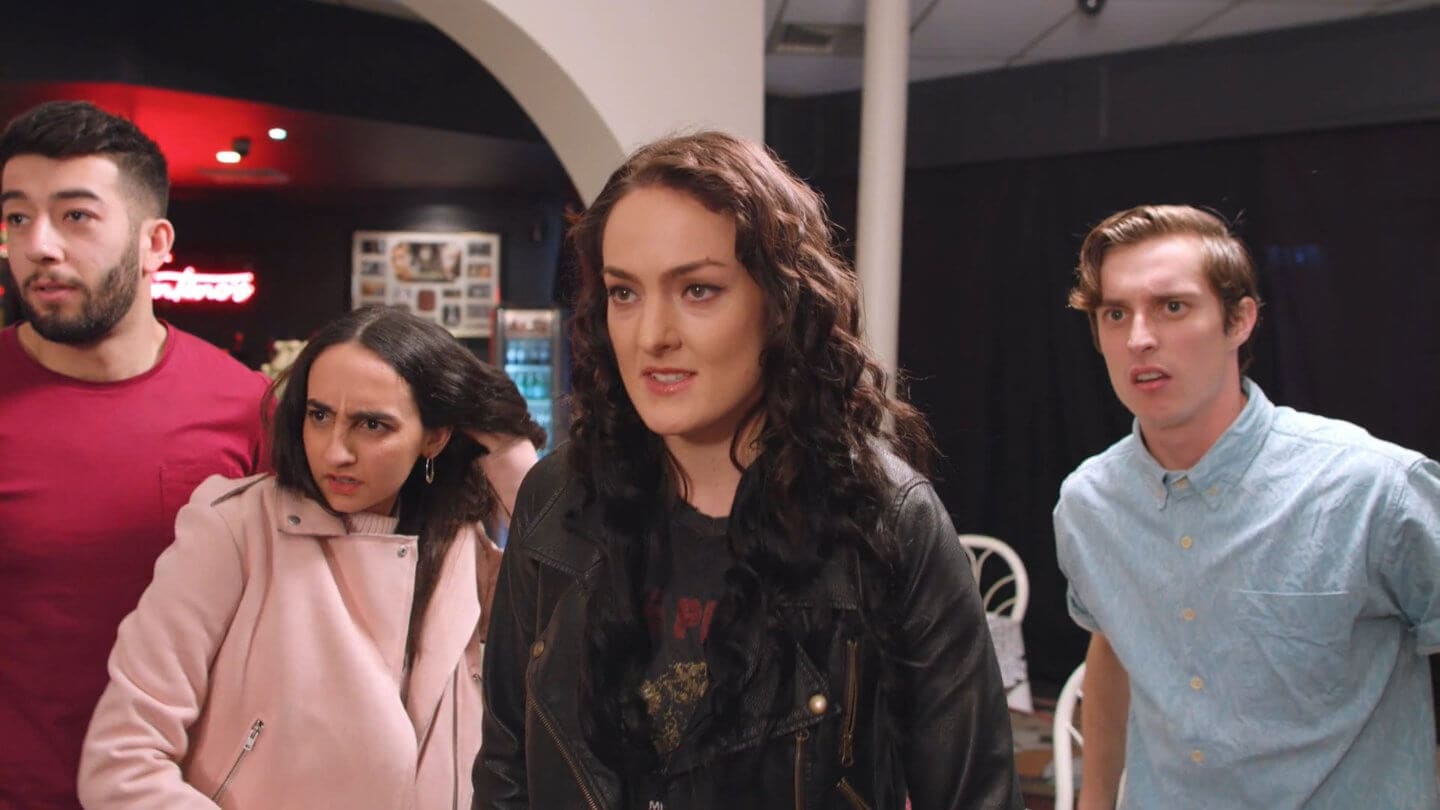 Barry (Shane Milward) is unable to think straight. At this point, we are least concerned with him as we hold our sides from the hurting of laughing at the eye rolls and guffaws that Alex has managed to draw from everyone around her. Drugs, conning, catfishing, you name it and she has done it. Poor Barry refuses to read the telltale signs until they become unignorable.
Helmut Uhlmann's composition simply plays along with our mood. It is hard not to laugh at the idiocy and futility of it all. For we have all been there at some point. And that is the ingenuity of She's Not Your Type. As Sarah & Anthony almost plead with Barry to see through his choices; his own defenses stack up to an all-time high. By this point, we are convinced that he deserves her as much as she does him, because their ridiculousness is a perfect match.
She's Not Your Type is laughable, because it is relatable. The performances are good, and a special shoutout to the goldfish (Whiskers), who we are quite certain saw the signs way before any of us did! This month (with a certain annoying holiday), remember about love being not just blind, but crazy too!
#ShortFilmReview: She's Not Your Type: He refused to read the signs, so she ensured he did!
Click To Tweet
She's Not Your Type: Hilarious Face-to-Face Encounter With Your Worst Date
Direction

Cinematography

Screenplay

Editing

Music