Oran Zegman's Marriage Material is a glittery nightmare of a satire. And it's a musical (a first for AFI, where Zegman was a student; Marriage Material is her thesis film). The film, a pointed critique of dating and marriage for women, is both coloured by a bygone era and distinctly modern.
Recently single Leah (turned down by boyfriend upon proposing marriage), played by Gwen Hollander, checks herself into the Late Blooming Bride retreat. At the end of it, she is guaranteed to be matched with a suitable partner who "matches or exceeds" her requirements. But to graduate, she must score 100% on the BTB progression scale, and she's too "Alpha" to achieve that easily. Yet, she's the malleable, gullible protagonist and soon, the loose uniform begins to fit her, she sings in rhythm and irons with mechanical joy.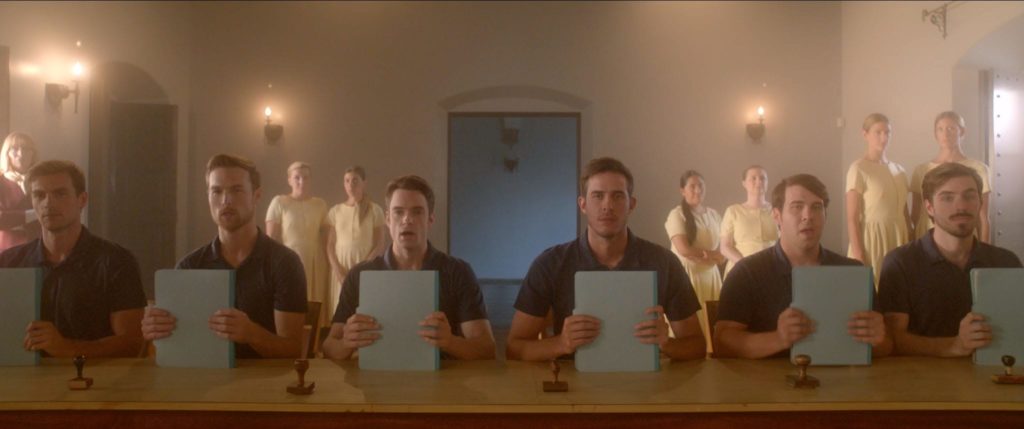 Zegman's intricately crafted world is a weird, cultish and humorous delight. Yenta (Laura Gardner), the leader is charismatic, the assistant (Diane Kelber) looks over the twisted day-to-day life of the establishment, the residents smile, laugh, clap and walk on command, all obsessed with the singular goal of achieving 100% score. All this set to the maddening inertia built up by Ben Zeadman's music. As much as it accompanies the sinister workings of the Late Blooming Bride retreat, it is also a reassuring presence of sorts.
As the many levels of paperwork is shoved in Leah's face, dictated by the charmless assistant, what becomes swiftly clear is that the upper hand– even though the women came here of their free will, even though it is they who desperately want to get married– remains firmly with the man and with the film's sinister progression and climax, this is reinforced with laser precision. Indeed, the stripping of agency and will is paid particular attention: Leah of the initial days resisted being suppressed (hence the alpha tag); as time passes, her voice turns softer, more vulnerable and unsure, now only sometimes reminding herself of her needs. Simultaneously, the ill-fitting uniform begins to fit. The ideal wife is nearly ready.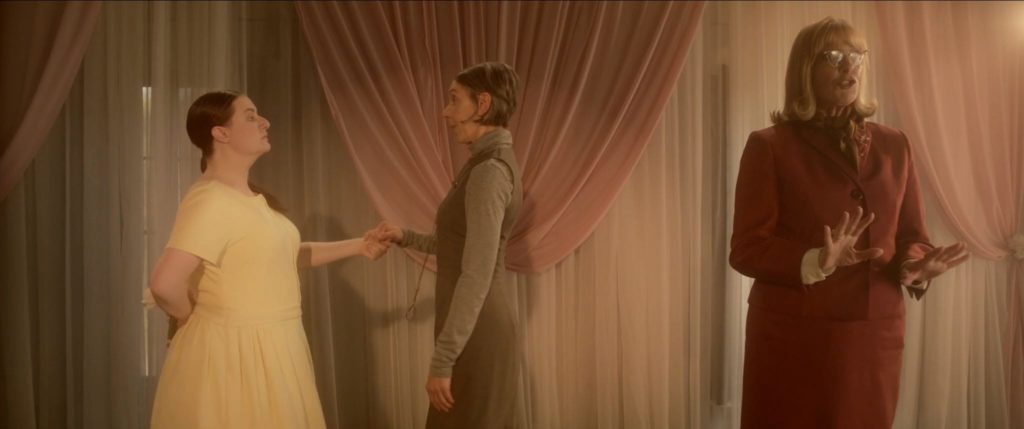 Zegman writing shows cutting humour and satire: The irony of her going increasingly quieter in a musical makes itself felt. In fact, since arriving at this wife factory, her most spirited expression is only a figment of her imagination.  
#ShortFilmReview: Marriage Material: Check yourself in right after college and your life will be complete!
Click To Tweet
Watch Marriage Material Short Film
Direction

Cinematography

Screenplay

Editing

Music