Writer Brandon Koen's 'Benji' is adorable. He is the guy you want to hang out with. He isn't the cool dude or the stud, but the warm, fuzzy friend you'd like to chill with. Does that make him worthy of your parents' approval, though? That's what director George McGrath's 'Benji' comes down to. Benji is relatable to anyone who has been a loner or felt like an outsider. The film opens with Amy Milner's instantly uplifting and delightful background score. The opening shot itself carries with it a distinct artistic vibe, with paint supplies and frescos lying carelessly around a messy apartment. Koen, who also plays Benji, is an awkward, clumsy, and an easily likeable character who wants to do his best to win over his girlfriend's parents. Sounds easy for a seemingly likeable guy, doesn't it? But, now think of a snooty, rich, drunk couple for her parents and place your bets!
Girlfriend Lana (Allison Roberti) preps up Benji and takes great care to ensure everything is ship-shape, down to his clothes. Like all dates, she wants him to land a good first impression on her parents. As the dialogues exchanged between the two goes: 'I just don't want them to think you're a kook.' – 'But I AM a kook!'; it gives one a fair analogy of what is in store. McGrath's direction is brilliant and he knows how to perfectly extract performances from his actors.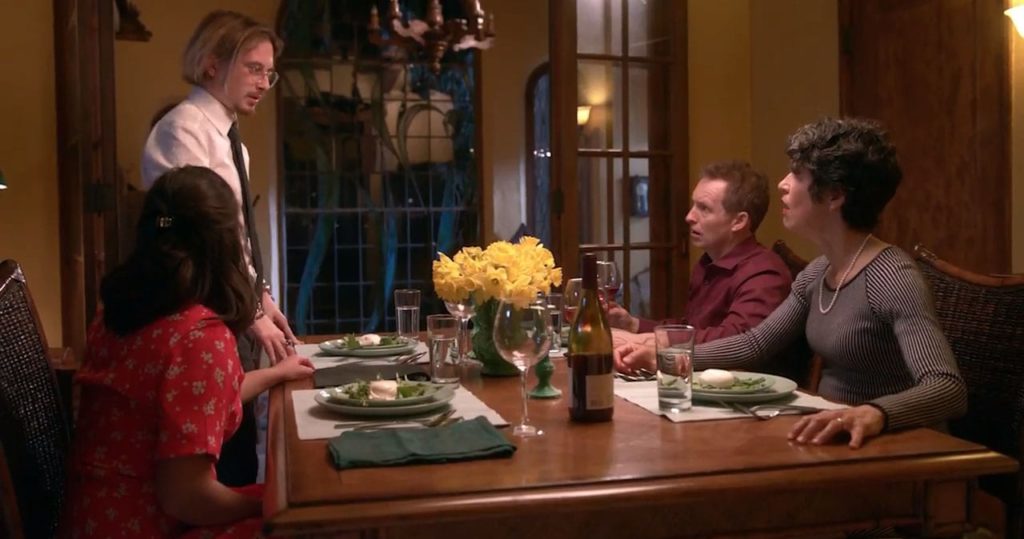 Lana's parents (played by the talented Curtis Fortier and Carrie Gibson) are the nightmares you'd dread to meet! Portrayed as drunk, judgmental snobs, they spare no time in letting Benji know that he isn't good enough for their daughter. Their characters are stereotypical– the squabbling lot, with both claiming to know what's best for their child. The parents, despite their predictable character arcs, are the best part of the short film. Besides playing their characters to perfection, their comic timing is simply marvellous. Safron, Lana's mum compares his name to that of the dog from the Disney film Benji. If that doesn't prepare you for the coming onslaught, then the following powerful scenes, all displaying extreme dislike towards one another will blow your mind for the strong hilarity that they are nestled under.
After listening to a few more digs at him, Benji decides he's had enough. He gets up and starts talking, clearly preparing to give an epic monologue. At a certain point, he asks Lana to come and stand beside him, more out of a desperate need for a boost. But, in the statement, he makes, "I want you to take a good look. This is love.", you know that this simple declaration is heartfelt and emotional. And, everything else that follows is a case of outstanding writing and convincing performances by the cast, especially Koen.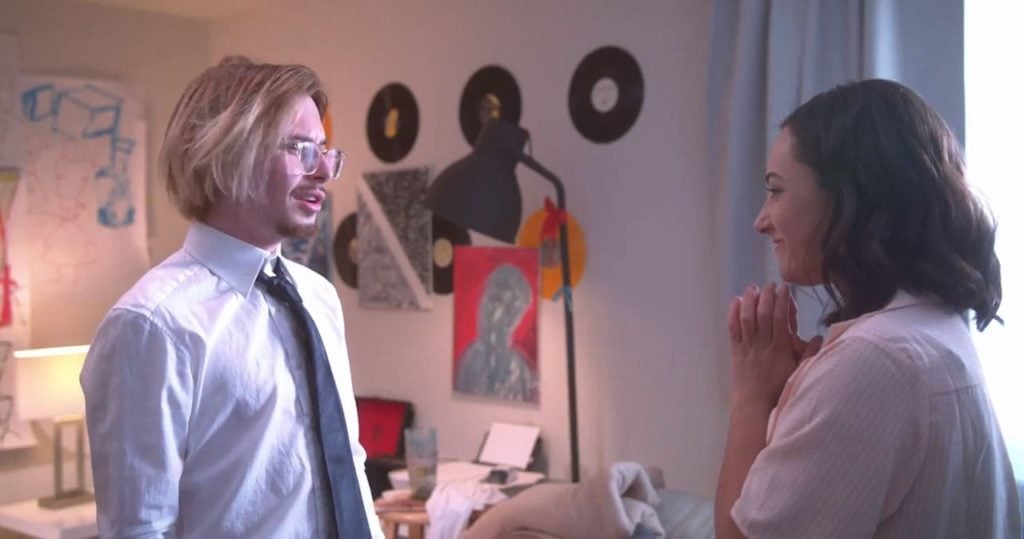 With Ilya Chegodar's cinematography moving from the messy interiors of Benji's apartment to the very prim and proper of his date's parents' home, the film is easy on the eye, just as Benji is himself. Add to that Josh Marchitelli's editing, and it makes the movie even paced at 6:28 minutes. 'Benji' certainly has a lesson or two for its viewers. And the beauty of it is that it doesn't come across as indulgent or patronizing. 'Benji' leaves behind a simple message. If you spend time listening to other people's opinions of yourself, you'll be stuck in a spiral of self-pity. Instead, believe in yourself, do what you love and focus on the people you care about. If that worked for Benji, it can certainly do the trick for you!
#ShortFilmReview: 'Benji' Will Give You A Lesson Or Two In Standing Up For Yourself!
Click To Tweet
Direction

Cinematography

Screenplay

Editing

Music