Cinematographer Felix Striegel's camera takes you through the dark alleys of Nairobi. It is winter 2015. You see Jua (Adelyne Wairimu) walking through the barely lit back-streets, baggage in hand; her walk, determined and pensive as she looks around cautiously. The atmosphere is volatile. You can feel the chaos, it's palpable. The deserted streets speak of a day that must have been pure mayhem. Suddenly you witness the rounding up of men, Muslim men; and you hear the shout 'Terrorists'.
One of them makes for a daring escape bumping into Jua who makes no attempt to stop him from the following police. Her face; a mix of indifference & angst, you can make out that she has seen far worse in life. She makes to the booking office. The city seems to be on an entirely different rhythm here: buses honking, children crying, people pushing through, everyone with an agenda. Jua asks only one question whilst buying her bus ticket to Mandera, a 31 hour grueling journey: 'Will there be a police escort?' You get the hint.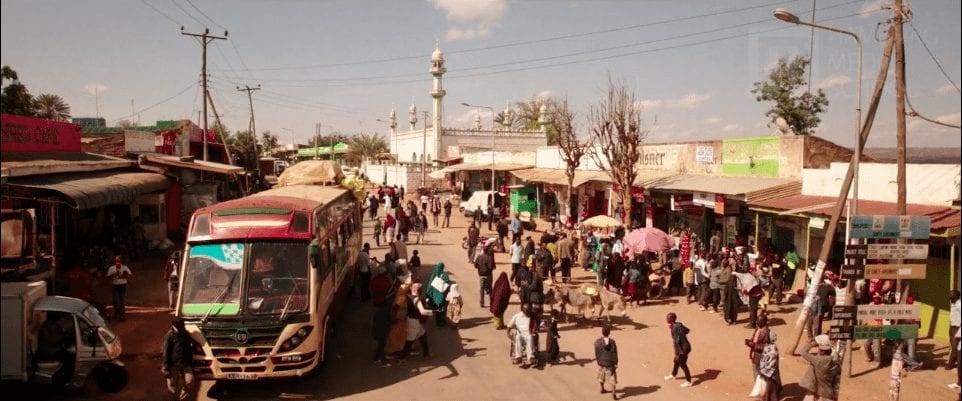 This is the Kenya-Somalia border, a treacherous ground that has bred animosity between Muslims and Christians due to the decade old ongoing attack led by the terrorist group Al-Shabaab. Mistrust, betrayal, hate seeping into the daily lives of its inhabitants, life has become pandemonium here. As Jua, a Kenyan Christian, embarks on her journey with a bus seemingly full of Muslims, the suspicion is tangible. In comes the man who fled the police custody & Jua's fears are validated. Or are they? As he tries selling water & snacks to fellow passengers, he approaches Jua warmly, perhaps a hint of gratitude for not outing him earlier. But she remains hostile to him. His teacher, who happens to be on the same bus, mediates to no avail.
What follows thereafter is gripping, compelling, touching, meant to shake your insides. When the bus is caught in the crossfire, with militants attacking its passengers, asking them to out the infidels they know of accompanying them, you'll be gripping your seats, but also clenching your fists. What must it feel like to be isolated because of your faith? 'Watu Wote' is the question and the answer. It is a tale of extraordinariness found in the most unexpected quarters of one's life. When the choice is between a bullet and your life, what do you choose? Does violence always beget violence? Where does the seed of peace germinate? In the womb of violence, the ones who watch Watu Wote would say! Peace comes in solidarity, it comes when you least expect it and from someone you never banked upon.
We live in a world that is increasingly becoming hostile, intolerant and judgmental. When stereotypes and sweeping generalizations cloud our understanding, movies like these become an eye-opener. Salah Farah (Abdiwala Farrah) who plays the teacher is just one amongst the many heroes this film offers. Director Katja Benrath does complete justice to Julia Drache's screenplay. But, nothing, absolutely nothing, can surpass the fact that this film is based on the real life incidents that occurred on the 21st of December, 2015.
For all those who have lived their life longing for peace, to making reconciliation, seeking and granting forgiveness, this film is for them. This is for those who have lost faith in humanity; and also for those who have restored it. But, above all, it is a humble tribute to the passengers of that bus that was in the Mandera County on that fateful day and to the solidarity they exhibited to save humanity from its own death.
Nominated for Oscar, 'Watu Wote: All Of Us', is a must watch.
'Watu Wote' Is A True, Compelling Tale For Those Longing For Peace…
Direction

Cinematography

Screenplay

Editing

Music